Lifestyles
Powder Creek Pavilion presents pair of metal bands Sept. 14
Sep 14, 2019
Bonham, Texas -- Two modern metal bands on the regional touring circuit will take the stage at Powder Creek Pavilion Saturday, September 14.
Relative Kause, progressive heavy rockers from McKinney, and special guests Used But Not Forgotten will be in Bonham on Saturday.
Relative Kause features Sean Bankston on bass and lead vocals, Darren Doyle, on drums and vocals and Mike Shumway on guitar and vocals.
Used But Not Forgotten is a three-piece, all-original rock band comprised of Tony Tomasek (drums/backing vocals), Carl Sanders (bass/backing vocals) and Chris Hancock (singer/guitarist).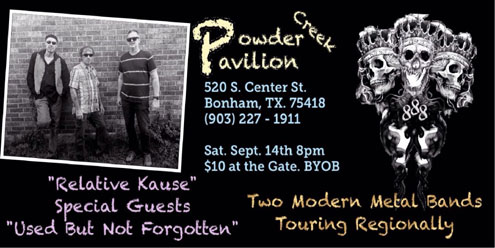 For more information, please call 903-227-1911.
Music is scheduled to begin at 8:00 p.m.
Admission is $10.
Bring your coolers!
Powder Creek Pavilion is located at 520 S. Center St., Bonham, Texas 75418. For more information, please visit www.powdercreekpavilion.com