Local News
Come celebrate Ike's 129th Birthday and the 75th Anniversary of D-Day, Saturday, October 12, 2019
Oct 12, 2019
Denison, Texas -- Join the Eisenhower Birthplace State Historic Site and the City of Denison to celebrate Dwight Eisenhower's 129th birthday on Saturday, October 12. This year's theme is the 75th anniversary of D-Day, the largest seaborne invasion in world history, commanded by General Eisenhower in June 1944.
Begin the day with a Sunrise Service at the Eisenhower Veterans Monument at 8 am. The Monument is on Highway 75 at North Loy Lake Road (exit 67). The Dedication Ceremony for the newest bricks for veterans is at 10 am in the Eisenhower Auditorium at Scott Middle School (1901 S. Mirick Avenue in Denison). Retired military historian history professor Kearby Lyde will speak about D-Day and the events that followed.
The Eisenhower Birthplace will be serving free hot dogs at 12:00 p.m. Wish Ike a happy birthday with a free piece of cake, provided by Albertsons, at 1:00 p.m. Free tours of the Birthplace House will be offered at 11:30 a.m., 12:30, 1:30 and 3:30 p.m. The Red River Military Vehicle Preservation Association will have a display of World War II-era vehicles. The Wall of Honor, a tribute to local veterans, will also be open. The exhibit is open from Tuesday-Saturday, 9:00 a.m. – 5:00 p.m. through October 31, 2019.
The USO, for United Service Organizations, sent entertainers and celebrities to military bases at home and abroad to boost the morale of American troops. In the spirit of these camp shows, performers from Denison's Shawnda Rains Entertainment Group are giving a free USO tribute performance featuring songs of the period on the lawn of the Eisenhower Birthplace at 2:00 p.m. Please bring your blankets and lawn chairs. The performance is made possible by the City of Denison Main Street Program.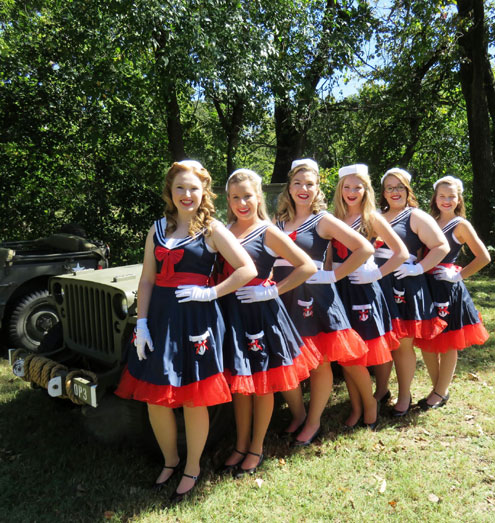 The Perrin Air Force Museum (436 S. McCullum Avenue in Denison) will be open from 9:00 a.m. to 4:00 p.m. that day. The Red River Railroad Museum (101 E. Main Street, Suite 145) will also be open from 11:00 a.m. to 4:00 p.m.
The Eisenhower Birthplace State Historic Site is located at 609 S. Lamar Avenue in Denison.
Please call 903-465-8908 for additional information.