Lifestyles
Texoma Genealogy Group welcomes Kimberly Wells back Nov. 13
Nov 11, 2019
Sherman, Texas -- The Texoma Genealogy Group is excited to welcome Kimberly Wells back on November 13 for her presentation of "Epidemics and Family Research."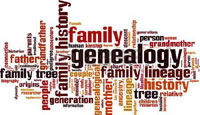 Epidemics have always been part of US history; from smallpox in the colonies to the influenza pandemic of WWI. Kimberly will discuss how these outbreaks impact genealogy research. They could cause the cemetery to fill, families to separate or be the reason the whole family picked up and left an area. She will show how they impacted migration patterns, vital records and had long term consequences for the survivors.

Kimberly received her BA in History and MLS from the University of North Texas. She spent 6 years working in the Genealogy & Local History department of the Ft. Worth Public Library. In 2006, she accepted a position with the Denton Public Library and is currently the manager of the Emily Fowler Central Library.

The Texoma Genealogy Group meets from 1:00-3:00 p.m. on the second Wednesday of each month, September through May, at Sherman Parks & Recreation, 1002 N. Music St. (only exception is December when we meet at the Sherman library). We encourage anyone with a desire to find your ancestors to join us. Membership is not required.

For more information, our website www.texomagenealogygroup.com has lots of information, including forms, local class & seminar information and notes from past presentations. You can also contact Cindy Barnhart at cbarnhart50@gmail.com or 512-293-4398 or Carol Beck at carolsbeck@yahoo.com or 903-893-4000.