Obituaries
Jack Ball
Nov 4, 2019
Bonham, Texas -- Funeral services for Rev. Jack Ball, 90, of Bonham, Texas will be at 2:00 p.m. on Wednesday, November 6, 2019, at Cooper-Sorrels Funeral Home Chapel in Bonham. Rev. Larry Horn, Rev. Grady Ford and Rev. Leon McDowell will officiate. Interment will follow at Mulberry Cemetery. Rev. Jack Ball joined his Savior and loved ones in Heaven on Saturday, November 2, 2019, in Denison, Texas.
Jack was a beloved husband, father and Papa to his grandchildren and great-grandchildren. He was a man full of life, love and laughter who had a passion for sharing his faith with everyone he met.
Jack was born Oct. 26, 1929, in the Mulberry Community to parents, Luther James and Iona Cummins Ball. He attended Mulberry schools and later served in the Army National Guard.
He married "his little sweetheart," Lois Marie Lasater on Jan. 21, 1950, in the Mulberry Community. The two then began a life of ministry. At 23 years old, Jack became the pastor of Mulberry Assembly of God. He then moved to Tahoka, Texas, to serve as pastor of Tahoka Assembly of God. After returning to Bonham, Jack built and pastored the Bonham Revival Center. Later, he became an ordained minister with the Pentecostal Church of God and served for 40 years as the pastor of Faith Temple Pentecostal Church of God in Durant, Okla.
Jack also hosted a longtime radio ministry for stations in Durant and Bonham. Additionally, he served for eight years as a sectional presbyter for the Pentecostal Church of God and was a chaplain for the Medical Center of Southeastern Oklahoma in Durant. Jack also looked for any opportunity to share God's love with people, whether it was a revival, a street ministry, a service at a nursing home, visiting inmates in jail or sharing a gospel tract with the wait staff at restaurants. Jack was a gifted musician who loved playing his guitar and singing. He was outgoing, never met a stranger and enjoyed visiting people, including stopping by to see his friends at the Branding Iron, Gene's Tire Service and Welborn Music in Durant.
Jack was a stylish man who loved his suits and hats and wearing his collection of colognes. He also had a zeal for life. He took flying lessons at the Bonham airport and enjoyed traveling, from road trips to Arkansas and Missouri to visiting the Grand Canyon and Niagara Falls. He also had fun competing with Lois during games of miniature golf, savoring ice cream with his grandkids and great-grandkids, feeding any stray animal that showed up at his home and posing for pictures, especially if he could sit on a motorcycle or in a classic car. Jack always enjoyed a good cup of coffee surrounded by family and friends.
Jack's life was one built on a strong faith in God, a heart for others, generosity with his time, talents and money and a desire that all people would know the love of God and the rich life found in living for the Lord.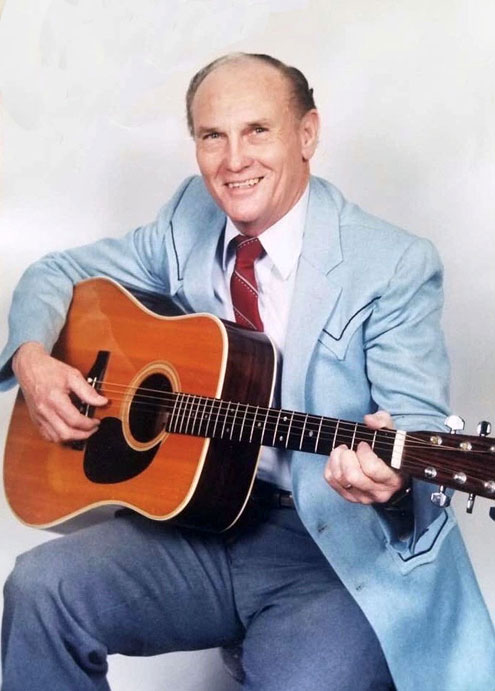 Jack is survived by his wife, Lois, of Bonham; children, Rickey Ball and wife, Kathy, of Bonham, Carolyn Houser and husband, Rick, of Milburn, Okla., and Marilyn Crites, of Caney, Okla.; grandchildren, Sharla Bardin, of Norman, Okla., Jeremy Bardin, of Arlington, Va., Justin Ball, of Bonham, Beth Yochum and husband, Stephen, of Durant, Okla., and Jared Ball, of Bonham; and great-grandchildren, Lily, Natalie and Breana Ball, Lydia and Myles Yochum and Jorey, Siena and Adelaide Bardin. He also leaves behind numerous friends from across the United States.
Jack was preceded in death by his parents; brothers, Homer, Wesley, Leonard and James Ball; sisters, Janice Hall and Alice French, sisters-in-law, brothers-in-law; niece, Vickie Ball; and nephew, Max Ball; great-nephew, Jeffrey Morgan; and great-niece, Dava Elaine Ball.
Serving as pallbearers will be Ronnie Ball, Roger Ball, Justin Ball, Jeremy Bardin, Stephen Yochum and Ronny Ford.
Family visitation will be held on Tuesday, November 5, 2019 at Cooper-Sorrells Funeral Home Chapel from 6:00 to 8:00 p.m.
To convey condolences or sign on online registry please visit www.coopersorrells.com