Local News
Sundown Ceremony at Veterans Memorial Park in McKinney cancelled
Nov 11, 2019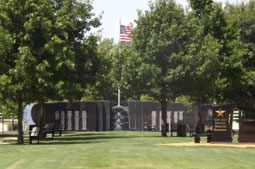 Veterans Memorial Park in McKinney
Due to inclement weather forecast for Monday afternoon, the Sundown Ceremony on Monday has been cancelled. A decision will be made as to rescheduling.
_______________________________________________
original press release below...
McKinney, Texas (Nov. 6, 2019) -- The ninth annual Sundown Ceremony, "Reading of the Names", will begin at 5:28 p.m. on Veterans Day, Monday, November 11, 2019, at the Collin County Veterans Memorial Park in McKinney, 6053 Weiskopf Avenue.
The "Wall of Honor" contains the names of 420 young Collin County heroes who have died in the service of our country. The oldest is 65; the youngest are four 17-year-olds.
There are brothers, cousins, an uncle and his name-sake nephew, farmers, cowboys, high-school students, college students, truck drivers, wagon drivers, delivery boys, pilots, store clerks, one barber, one preacher, one professor, one Medal of Honor recipient, one doctor, one nurse and three lawyers represented on the "Wall".
Most of the readers at the ceremony are related to one or more of those heroes and anyone who is, you are welcome to participate.
The ceremony is sponsored by the McKinney Armed Services Memorial Board; American Legion "Bill Bryan" Post 110; and Collin County Freedom Fighters.com.
For more information and a list of all 420 names with bios, go to http://ccfreedomfighters.com/index.html