Lifestyles
'Grief through the Holidays' offered by Home Hospice of Fannin County
Nov 11, 2019
Sherman, Texas -- Home Hospice of Fannin County is pleased to announce the start of our "Grief through the Holidays" Support Group starting on November 14, 2019. This group will be specially focused on how you live with your grief during the holidays.
Each week we will work through discussing topics such as facing extended family, creating new traditions and getting through "firsts" this holiday. The group will meet in the Fannin Baptist Association Offices at 1505 Silo Rd., Bonham, TX 75418.
The sessions will be held on Thursday afternoon from 1:00 p.m. – 2:30 p.m. starting November 14th and 21st, continuing December 5th and December 12th.
"Experiencing grief over the loss of a loved one is a normal part of life's journey" said Dennis Noblett, Spiritual Counselor. "However, it can become an overwhelming feeling especially during the holiday season. People are often surprised how much it impacts them emotionally, mentally and physically. There is no magic pill or quick fix for your grief, but sharing your journey with others who have experienced the loss of a loved one, can make it easier. Come and join us."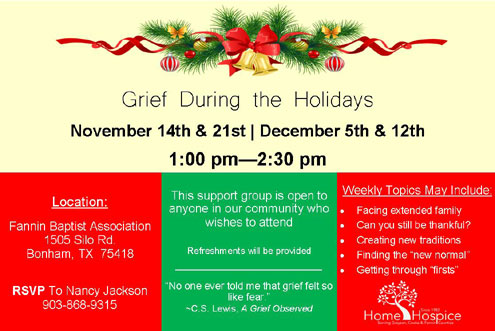 To register for the support group, please contact Katrina Reeves at 903-868-9315. Home Hospice of Grayson, Cooke and Fannin Counties is a 501(c)(3) community-based non-profit organization founded in 1982. Our mission is to provide the best care and support enhancing the Quality of Life of our patients and their families.
To learn about other community outreach programs offered by Home Hospice, please visit www.homehospice.org or visit our Facebook page at www.facebook.com/homehospiceofgrayson.