Lifestyles
Silver Leos Writers Guild to meet Nov. 13
Nov 9, 2019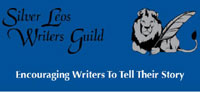 Commerce, Texas -- Nom de plumes, pseudonyms, and pen names are tools writers have used for centuries. They're also known to change character names when writing about actual events in an effort to protect the innocent. When is the best time to make use of these options and why do it at all? These are some of the questions that will be answered during the upcoming meeting of Silver Leos Writers Guild on Wednesday, November 13 at 1:00 p.m in the A&M-Commerce Alumni Center (corner of Stonewall and Campbell, Commerce, Texas).

History is filled with famous authors who used pen names to protect themselves from prejudice, imprisonment, family embarrassment, or to simply maintain their own privacy. However, they also find it necessary to change the names of characters within a book when writing about real life. This practice not only serves the actual persons, but can also protect the author.

Speaking from personal experience, Amelia Marie Bissett will explain the pros and cons, including possible legal ramifications of writing creative nonfiction. When her publisher refused to stand up for her as a client, Amelia felt the need to change publishers and sought advice from an attorney before moving forward. Writers of all genres will find her presentation enlightning as they continue their own endeavors.

Organized in 2009, Silver Leos Writers Guild welcomes writers of all skill levels who are 21 years of age or over. Regular meetings are the second Wednesday (January-November). Dues are $20 per year. One-on-one assistance is available for members through the Peer Review Group beginning at 11:30 a.m. SLWG is a chapter of the A&M-Commerce, although alumni status is not a membership requirement.

For additional information contact Sharon Feldt, president, at 903-335-8502.