Obituaries
Ruth Eloise Spence
Nov 8, 2019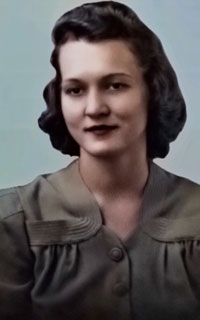 Van Alstyne, Texas -- Ruth Eloise Spence was born on August 5, 1917, near Anna, Texas where her parents E.V. and Elzada Thornton lived. She died on October 23rd, 2019, at her home in Van Alstyne. Ruth graduated from Anna High School in 1934. She attended North Texas State Teachers College in Denton from which she ultimately achieved a degree in Education. Her first teaching job was at a 2- room school in Kelly. When the Kelly school consolidated, she began a 38-year long career as an elementary school teacher in Van Alstyne. In all, she taught 44 years and really enjoyed it.

On May 22, 1938, Ruth married Dow Spence. At the time, she was still teaching at the Kelly school. They had many good years together farming and teaching. She retired in 1981 and then spent a lot of time gardening and traveling. Ruth loved teaching and over a span of 44 years touched many lives. She called all of those people, her kids.

From the age of 10, Mrs. Spence was a member of the First Christian Church in Van Alstyne. She taught Sunday school classes, served as an elder and was active in the C.W.F. Ruth also was an active member of Eastern Star and the Culture Club.

She is survived by 3 nephews: Dr. Charles Strother of Madison, WI, Mr. David Strother of Lafayette, LA, and Mr. Marc Garvey of Carrolton, TX, as well as by great nieces and nephews, many friends and former students. She was preceded in death by her parents E.V. and Elzada Thornton, her husband, Dow Spence and her sisters Betty Garvey and Ola Strother as well as by many friends. Her family expresses their heartfelt gratitude to the amazing caregivers of Home Instead for all that they did to make Ruth's last years so full and peaceful.

Funeral services will be held at 11:00 a.m. Saturday, November 16, 2019, at Scoggins Funeral Home Chapel with Dr. Doug Deuel, officiating. Interment will follow at the Van Alstyne Cemetery.

Pallbearers will be Masons of The Mantua Lodge #209. Memorials may be made to First Christian Church, PO Box 626, Van Alstyne, TX 75495.