Local News
Dessert Theater at Creative Arts Center Nov. 15
Nov 15, 2019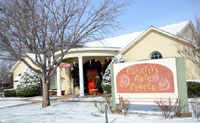 Bonham, Texas -- The Creative Arts Center will host a Dessert Readers Theater at 7:00 p.m. on Friday, November 15. The evening will feature delicious desserts and beverages. Two short plays will be performed and artist Katherine Kluger will entertain with one of her written stories. The evening promises to be enjoyable for all and is the final readers event at the center for 2019.

One of the plays will involve a mystery for the audience to solve - the winning guess receives a prize! This play centers around a gift box that is re-gifted numerous times during the play. No one seems to want it. Why? Just what is in that box? That's what audience members have to guess. What kind of a gift gets passed on by everyone? That's for all to ponder and everyone to find out later.

The Dessert Theater is a donation based event - there are no ticket sales but guests are asked to make a donation and they may choose the amount.

"If you've never attended one of our Readers Theater events, you're in for a treat," said the center's Executive Director Lisa Avila. "Katherine is a terrific writer and has an illustrated children's book online called Leroy the Great. I've heard quite a few of her stories and her imagination as an artist comes through in her writing. I know everyone will enjoy what she reads for us. The other two plays are short but light-hearted and I know audience members will get into the spirit with the guessing game. We may even add some music to the evenings festivities."

For more information about the Dessert Theater on Friday at 7:00 p.m., call the Creative Arts Center at 903-640-2196.