School News
Austin College hosts 'Roo Bound program for children Saturday
Nov 14, 2019
Sherman, Texas -- Austin College's free 'Roo Bound program for area children in kindergarten through 5th grade continues for Fall Term 2019 Fall this Saturday, November 16, from 11 a.m. to 2 p.m. This month's session is "Hoppy Holidays!" Austin College members of the sororities Iota Eta and Theta Sigma Chi will host the event, as they will be doing holiday crafts and games.
Coordinated by the Service Station, the program invites children to spend fun, learning time on campus. Participants will have lunch in the Austin College Dining Hall in Wright Campus Center, courtesy of the Service Station and Aramark Food Service.
The day of the program, parents should drop students off between 10:45 and 11:00 a.m.at Wright Campus Center's main entrance off Brockett Street.
Advance registration is requested so that sufficient volunteers and materials will be available. Only 50 slots are available but openings still remain. To register or for more information, contact the Austin College Service Station at 903.813.2333 between 11:00 a.m. and 3:00 p.m. weekdays or email servicestation@austincollege.edu. To register by email, include the child's name and grade level, the parents' phone number, and whether the child has any food allergies.
In addition to the special learning opportunity for children, 'Roo Bound, coordinated by the Austin College Service Station but involving many students across campus, is designed to expose children to the idea of college in a safe, fun environment. The organizers hope that the program makes college attendance seem accessible to children, particularly those who might be the first in their families to consider college. Events will continue in the spring, currently scheduled for February 22, March 28, and April 18.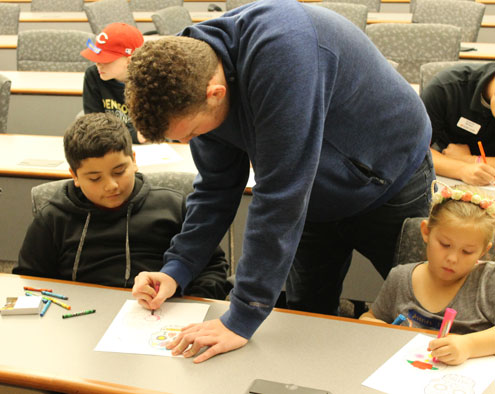 The Austin College Service Station is a student-run organization that connects Austin College students available for service with local agencies and groups needing volunteers. Many students do individual service projects in the community; campus organizations often do group projects; others take part in projects such as 'Roo Bound or the College's annual Great Day of Service, when several hundred students volunteer at more than 40 agencies in the north Texas region. Great Day of Service 2019 was held Saturday, November 2.
Austin College, a private national liberal arts college located north of Dallas in Sherman, Texas, has earned a reputation for excellence in academic preparation, international study, pre-professional foundations, leadership development, committed faculty, and hands-on, adventurous learning opportunities. One of 40 schools profiled in Loren Pope's influential book Colleges That Change Lives, Austin College boasts a welcoming community that embraces diversity and individuality, with more than 50 percent of students identifying as persons of color. The residential student body of approximately 1,300 students and more than 100 expert faculty members allow a 13:1 student-faculty ratio and personalized attention. This year, the campus recognizes 100 years of co-education and has had several opportunities to recognize the history of women and accomplishments of current alumnae. Austin College is related by covenant to the Presbyterian Church (USA) and cultivates an inclusive atmosphere that supports students' faith journeys regardless of religious tradition. Founded in 1849, the College is the oldest institution of higher education in Texas operating under original name and charter.