School News
McKinney to host touring Drum Corps International competition in July 2020
Feb 3, 2020
McKinney, Texas -- The City of McKinney announced that the community will host an exhibition and competition event during the 48th Annual Drum Corps International (DCI) Tour in July 2020.
The event, "Marching Music Made in McKinney," will take place at the McKinney Independent School District (ISD) Stadium & Community Event Center at 4201 Hardin Blvd. Several of the DCI corps, whose members are 17 to 21 years of age, will stop in McKinney on the road to the annual DCI World Championships in Indianapolis, Indiana, in August.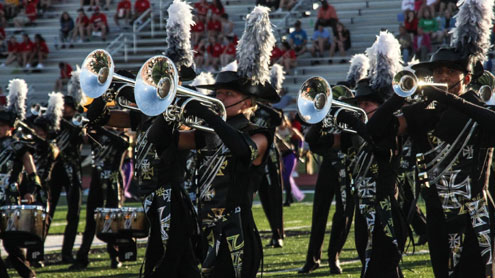 DCI - Blue Devils during performance 2018
"The McKinney community is blessed with our beautiful new McKinney ISD Stadium & Community Event Center, which was designed to host a wide variety of world-class events. Coupled with McKinney's strong sense of community spirit and passion for music, McKinney is the perfect location to host Drum Corps International marching competitions," said Dean Cimini, a longtime McKinney resident, community leader, music fan and planning committee chair of the Marching Music Made in McKinney event.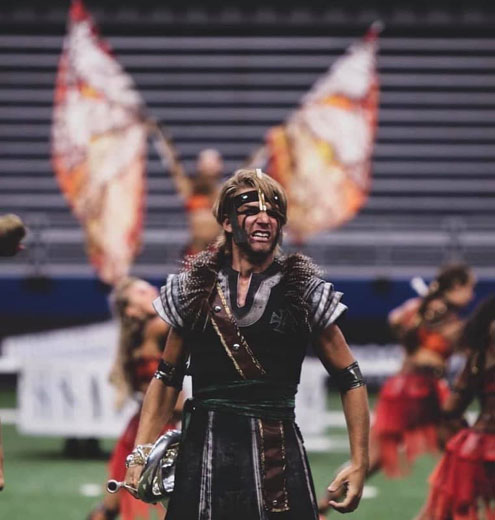 McKinney resident Josh Ussery - Crossmen
Cimini learned several years ago that DCI was looking for new host cities in North Texas. He leveraged his personal contacts at DCI to begin casual conversations about the requirements and expectations for hosting the organization's marching competitions in McKinney.
"Since then, I've been proud to lead a coalition of representatives from the community, the city, and MISD who've worked together to create a vision for what the next generation of DCI competitions could look like," Cimini said.
The local planning coalition learned earlier this year that DCI had selected McKinney to begin hosting annual DCI marching competitions, starting in July 2020. The multi-day experience will bring thousands of marching music fans from around the country to McKinney for several days of exciting events for music lovers of all ages. These events will culminate with the world-class DCI competition on July 21, 2020, at the McKinney ISD Stadium.
The DCI Tour visits many locations and venues from coast to coast every June through August with performances featuring some of the world's best marching music in shows full of intricate and complicated marching skills and choreography. Auditioning for the DCI corps is a rigorous process and, for those who are selected, it is an experience in musicianship, artistry, and athleticism.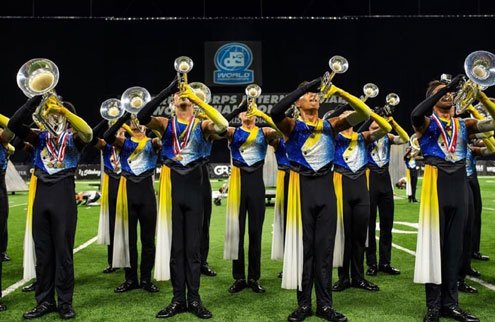 Crossmen in 2018 performance
For Dr. Danny White, Director of Fine Arts for the McKinney ISD, being able to host an event on the 2020 DCI Tour is of special significance because of the involvement of local students in recent years.
"It certainly is an honor to be able to host this event. DCI's reputation for producing the very best in marching performances is unrivaled," White said. "We've had many McKinney ISD students and others from North Texas perform and tour with DCI corps all across the country, so to host them here is very special. This is going to be a great event for our city."
McKinney ISD Superintendent Rick McDaniel sees the visiting competition as a perfect fit for the city and the stadium.
"We are thrilled that a world-class organization like DCI has chosen McKinney ISD Stadium as one of the performance and competition sites for its upcoming 2020 season," said Dr. McDaniel. "MISD has a long, proud history of outstanding band and fine arts programs, with students who have gone on to compete in DCI, so I can't think of a more fitting event for us to host. DCI sits at the pinnacle of marching band and drum corps competition, so we know that attendees will be treated to top-notch performances in a world-class facility, and we couldn't be happier to be part of it."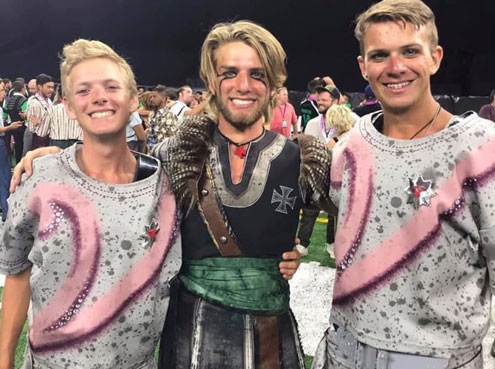 McKinney residents Remy Thomas, Santa Clara Vanguard; Josh Ussery, Crossmen; Michael Smith, Santa Clara Vanguard
Construction of the MISD Stadium facility, which opened August 2018, was funded by a school bond passed in 2014. Jennifer Gray, a McKinney resident and the school bond committee chair, sees this event as a perfect example of the type of event they hoped to see in the stadium.
"DCI coming to perform in McKinney is very exciting!" Gray said. "When the 2014 school bond committee was working on presenting the bond package to the citizens, we talked about the vision to build more than a football stadium and this is absolutely the fulfillment of that vision."
The Marching Music Made in McKinney event will bring a national focus to the MISD Stadium and the City of McKinney for the third time in as many years. The 12,000-seat facility served as host site for the 2018 NCAA Division II Football Championship Game and will host the 2019 game next month as well as in 2020 and 2021.
"The City of McKinney is honored to host a Drum Corps International event next summer," said McKinney Mayor George Fuller. "The DCI organization is highly respected and well-known for providing first class entertainment and we look forward to having these performers and their fans visit our community."
DCI released the Texas tour schedule this morning indicating that their McKinney stop is the final event of the Texas 2020 Tour. Just two weeks after their McKinney event, the corps will compete at the DCI World Championships set for August 6-8, 2020 in Indianapolis, Indiana. The organization will announce the Texas line-ups in conjunction with the complete 2020 DCI Tour schedule next week.
"Drum Corps International is looking forward to establishing a new partnership with the community of McKinney, Texas, which reaches beyond the production of a single tour event to create exciting new opportunities for interaction among and between fans of the marching arts, music students and DCI performers," said Dan Acheson, CEO of Drum Corps International.
Details about the July 2020 Marching Music Made in McKinney event will be announced when plans are finalized.
"Attending a DCI show is not like watching a typical marching band at halftime. The corps' performances are more or less stage productions on a football field and are exhilarating to watch," Cimini added, "I'm thrilled about this opportunity for our community and I can't wait to experience Marching Music Made in McKinney!"