School News
Southeastern: Top 10 Freshmen recognized
Nov 15, 2019
Durant, Okla. – Southeastern Oklahoma State University recognized the 2018-19 Top Ten Freshmen during a ceremony Wednesday in the Glen D. Johnson Student Union Auditorium.
The honorees were recognized for academic achievement and campus/community involvement.
Offering remarks and congratulations at the event were Southeastern interim president Dr. Bryon Clark, executive director of the Center for Student Success Dr. Marlin Blankenship, and Student Government Association president Sarah Winnett.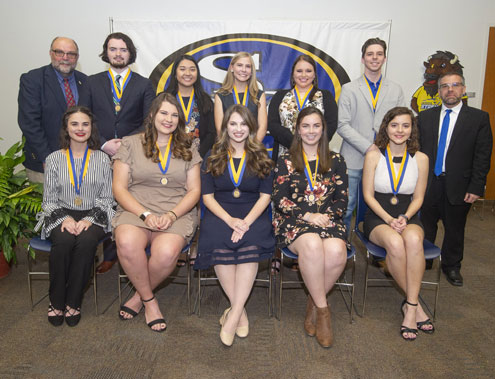 Front row, left to right, are Katie Thomas, Carli Wharton, Anna Alessia Antuono, Madelyn Bradberry, and Reagan Benson. Back row, Dr. Bryon Clark, Selby Stanton, Tammy Vo, Emily Dahl, Maegan Young, James Quarles, and Dr. Marlin Blankenship.
Below are the recipients of the Top 10 Freshman award, followed by their academic major and hometown:
Anna Alessia Antuono, Special Education, Ardmore
Reagan Benson, Aviation (Professional Pilot), Paris, Texas
Madelyn Bradberry, English Education, Healdton
Emily Dahl, Communication (Journalism), Antlers,
James Quarles, Pre-Med, Achille
Selby Stanton, Political Science and Public Relations, Colbert
Katie Thomas, Vocal Performance, Broken Bow
Tammy Vo, Political Science, Calera
Carli Wharton, Elementary Education, Wilson
Maegan Young, Nursing, Ardmore