Obituaries
Juanita Lucille McFarlin
Nov 17, 2019
Bonham, Texas -- Funeral services for Juanita Lucille McFarlin, 85, of Bonham, Texas will be held at 2:00 p.m. Tuesday, November 19, 2019 at Boyd Baptist Church under the direction of Wise Funeral Home. Bro. Lynn Holly and Bro. Mike Allred will officiate. Burial will follow at Willow Wild Cemetery in Bonham, Texas. Juanita passed away Saturday, November 16, 2019 at Mullican Care Center in Savoy, Texas.
Juanita was born on September 19, 1934, the daughter of Arvin Truman Melson and Dora Gladys Wilson Melson. She lived to celebrate her 85th birthday. She graduated from Bonham High School in 1950 and married Jack McFarlin on February 27, 1953. They were married for 66 years. She worked for General Telephone, First National Bank, and Southwest Pump/Schlumberger until she retired in 1995.
Juanita was a caring mother, grandmother, and great-grandmother, eager to serve those in need. She was a charter member of Boyd Baptist Church, and loved and served there faithfully all her life.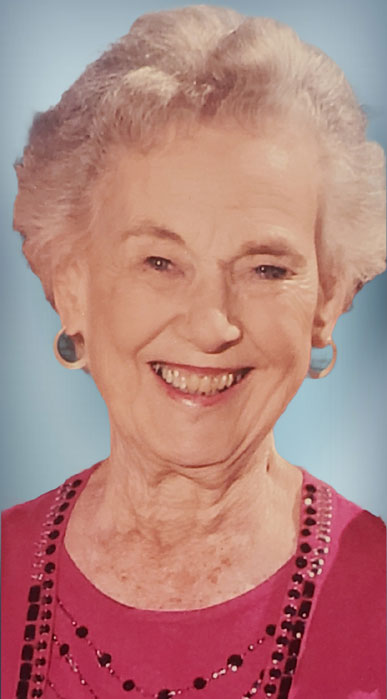 Juanita is survived by her husband, Jack McFarlin; her two sisters, Shirley Stapleton and Arlene Russell; her brother-in-law Bobby McFarlin; her two sons, Randy and Larry McFarlin; her daughter-in-law Carolyn McFarlin. She had five grandchildren--Crystal Summers and her husband Curtis, Craig McFarlin and his wife Missy; Courtney Antilley and her husband, Joey; Rae Lynn Hamby and her husband, Justin; James Cody McFarlin; and seven great-grandchildren, Abbey and Laura Summers; Carter and Case McFarlin; Jackson Antilley; and Caden and Brooklynn Hamby.

She is preceded in death by father Arvin Truman Melson and
mother Dora Gladys Melson.

Pallbearers will be Craig McFarlin, Curtis Summers, Joey Antilley, Justin Hamby, James McFarlin, and Bill Parker.

The family will receive friends at 1:00 p.m. Tuesday, November 19, 2019, one hour prior to service time.

Online guest register at www.wisefuneralhome.com