Lifestyles
Community Garden Kitchen of Collin County groundbreaking ceremony Dec. 6
Dec 6, 2019
McKinney, Texas -- Community Garden Kitchen of Collin County (CGK), an idea that literally began at a kitchen table shared by concerned friends, will soon become a reality. This 501(c)3 nonprofit will break ground Friday, December 6, 2019 at 10:00 a.m. and become the first kitchen in Collin County to prepare and serve meals to anyone struggling from food insecurity.
The approximately 4,500 square foot building will be located at 500 Throckmorton in McKinney, sharing the property with Holy Family Pre-school. The Episcopal Diocese of Dallas, the property owner, is leasing the land to Community Garden Kitchen for $10 a year. McKinney Mayor George Fuller and his wife Maylee Thomas Fuller will be in attendance as well as Bishop Sumner of the Episcopal Diocese of Dallas.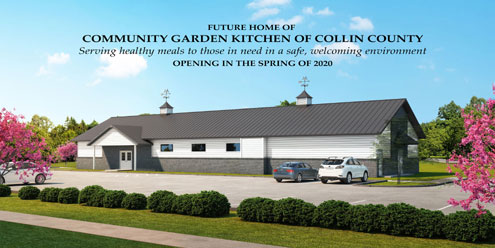 Artist's rendering
"The simple fact is, there are children, parents, veterans and elderly people who do not have enough to eat. This kitchen intends to address this crisis, so we are very excited to be breaking ground," explained Angela Poen, CGK president. "Our plan is to treat all our guests with dignity and respect. Anyone who needs a meal will be served, no questions asked, no paperwork required."
Brown bag lunches will be prepared during the event and donated to Samaritan Inn in McKinney.

Groundbreaking Agenda
December 6, 2019
10:00 a.m.
500 Throckmorton St. McKinney, TX 75069
Welcome and Opening Comments
Angela Poen
2 MINUTES
Invocation
Bishop Sumner
1 MINUTE
Recognition of dignitaries and
CGK & HFS Board, all others
Angela Poen
2 - 3 MINUTES
Brief History of CGK
Angela Poen
2 - 3 MINUTES
Blessing from the Diocese
Bishop Sumner
2 - 3 MINUTES
Words from the City Mayor
George Fuller
2 MINUTES
Campaign Announcement/Check Presentations
Angela Poen
2 - 3 MINUTES
Sack Lunch Instructions
Kelly V.
2 MINUTES
GROUNDBREAKING
Closing Remarks/Refreshments
Angela Poen