Columnists
A new address
Jan 2, 2020
ďAnd if I go and prepare a place for you,
I will come again, and receive you unto Myself;
that where I am, there you may be also.Ē
John 14:3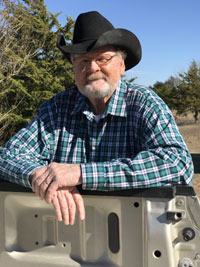 Lana and I took a day trip to deep East Texas over the holidays. Wanted to look up an old friend I hadnít seen in a while. In my humble opinion a true country gentleman. Now Iíll admit when it comes to staying in touch with folks, I just donít do it thatís all. I just assume theyíll be somewhere frozen in time, the same age and appearance as when I last saw them. And if by chance our paths should cross, weíll thaw out and catch up on current events. I donít see them growing older. I donít see myself growing older. But it happens.

After some deep East Texas investigative work at the local one chair barber shop and the Dollar Store, we discovered our old friend had a new address. No longer did he have his little spread outside of town, no longer did he run cattle, no longer did he finish out colts for local folks, he had sold out and moved to the county seat. Said it was time for some Ďassisted livingí.

Now we visit assisted living and nursing home facilities on occasion. Itís a great place to share the Gospel, make new friends, and renew former acquaintances. The blessings are always all ours and the caregivers are doing the work of the angels. I just didnít realize the Ďassistedí time had come for our old friend.

After getting directions we headed out, looking forward to a past due visit. Walking in, we found ourselves smack dab in the middle of their Christmas Gathering. Invited to join in, we politely obliged.

There he was. Easy to recognize in his ever present white pearl snap shirt and suspenders. Though his boots had been traded for house slippers, he still had the look and manners of a country gentleman. Attempting to stand as I re-introduced my wife, his weak legs wouldnít allow it. His speech, once strong and clear was now slurred and slow. I couldnít help but be reminded of a quote in Jack Terryís book, Prayers Along the Trail, that goes something like this, and I paraphrase, ďWhen Iím too old to hobble, just roll my wheelchair out to the fence and let me watch my horses graze.Ē My old friend had reached the winter season of life.

Iím persuaded one day weíll all have a new address. Whether it be a physical place, or whether it be a spiritual place, only our Creator knows. My friend seemed satisfied in his new address. Christmas cookies and good conversation took him back to a time when he wore a younger manís boots.

I treasure the stories he shared.

I looked at the calendar recently and realized Iím in my 70th winter. I walk a little slower and two related thoughts donít come as easy as they once did. But thatís ok. I carry memory insurance. Notes in the hip pocket of my Wranglers. When I vapor lock and canít remember the next line of a poem, I just reach for my insurance policy. I put vanity aside years ago. Inspired by my old friend, my goal now-a-days is to be remembered as a gentleman.

Lana and I left East Texas and headed home more determined than ever to appreciate our little place. Weíll count our blessings daily realizing one day we too will have a new address.

Weíll see you at the House. (John 14:2)

Bob & Lana Upchurch of Ox Yoke Ministry may be contacted at bdulgu@yahoo.com or by phone 903-449-0421.