Local News
Amber Brown named City of Bonham Employee of the Month
Jan 15, 2020
Bonham, Texas -- As the City of Bonham enters the second year of a system to reward exemplary employees, Amber Brown has been selected as December 2019 Employee of the Month for the City of Bonham.
That announcement came during a regular meeting of Bonham City Council held Monday, January 13, 2019. With Bonham Mayor Floyd away on business, Bonham Mayor Pro Tem H. Compton presided over the meeting. Councilmember Tim La Vergne II was also out of town on business.
Amber Brown is the Court Clerk with Bonham Municipal Court and has been employed by the city since February 1999. A very positive person who never complains, Amber is an essential and dependable part of Municipal Court as she constantly works to provide the best customer service.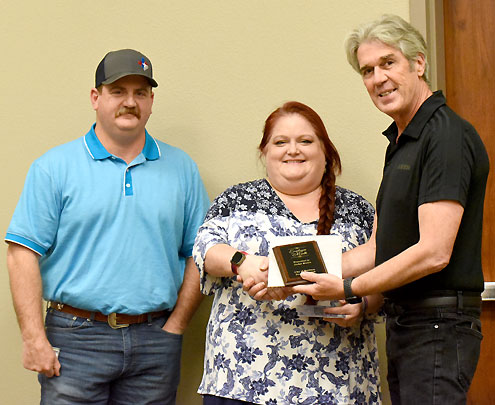 Brad Nichols, City of Bonham Director of Human Relations; Amber Brown, December 2019 Employee of the Month; and Bill Chapman, Bonham City Councilmember
It is rare to see Amber without her smile and she is a daily ray of sunshine who is an inspiration to her coworkers.
Each Employee of the Month receives four hours of paid time off and a $50 gift certificate. At the end of the year, the Employee of the Year will receive eight hours of paid time off and a $250 gift certificate. Last year's Employee of the Year, Dempsey Stewart, attended the meeting.
The Employee of the Month program was initiated by Brad Nichols, City of Bonham Director of Human Relations, to provide more incentives for city employees.
Several employees achieved career milestones in 2019. Billy Hughes and Debbie Green are 25-year employees, Howdy Howdeshell has 30 years and Mike Bankston has 40 years of service to the City of Bonham.
*****
Monday night's regular meeting of Bonham City Council opened with an invocation by Dr. Nolan Duck, Interim Lead Pastor - First Baptist Church Bonham.
*****
Councilmembers approved minutes of the December 9 regular meeting.
*****
Dave Struchtemeyer, CPA, Director of Finance for the City of Bonham, presented the December 2019 financial report to Bonham City Council
"So far, for the first quarter of FY 2020, expenses across all funds are all within budget and revenues are flowing as expected," Mr. Struchtemeyer stated. "Sales tax revenues are running about 1% better than what was budgeted."
Struchtemeyer said the city has collected approximately 22% of its ad valorem revenue through the month of December.
"We have received the funding of $1,029,000 from Government Capital related to the capital purchases that were approved during the December meeting and department heads are in the process of ordering those purchases this month," Struchtemeyer noted.
Bonham City Council approved the financial report for the month ending December 31, 2019.
*****
Councilmembers received recommendations from representatives of NewGen Strategies & Solutions regarding water and wastewater rates.
The recommendation was for no change in water rates until the 2023-2024 timeframe, however councilmembers were informed that wastewater rates must increase incrementally over the next four years in order for the City of Bonham to recover operational costs.
Attachment fees for new water customers on 3/4-inch lines is currently $946, while the cost to the city is approximately $1,500. The recommendation is to adjust the tap fee to $1,600.
One-inch line tap fee is $1,038 and NewGen Strategies & Solutions suggests increasing that fee to $2,200 to recover costs.
Wastewater tap fee is currently $870, with the city incurring a cost of $1,200-$1,300. The recommendation is for wastewater tap fee to increase to $1,350.
The next step will be to prepare an ordinance that reflects an updated fee schedule to be read in a public hearing.
*****
Bonham City Councilmembers received a briefing on the local impact of Fannin County Multipurpose Complex from Dale McQueen, Executive Director of Bonham Chamber of Commerce and manager of the sprawling 24,000-sq.-ft. complex. Mr. McQueen estimates that approximately 31,000 people passed through the facility last year during everything from the county fair and AgriLife Extension events to weddings and private parties.
Of those attendees, an estimated 15,000 were from out-of-county, resulting in hotel stays of 400-600 room nights.
Fannin County Multipurpose Complex utilizes local caterers and maintenance whenever possible.
Annual rentals of Fannin County Multipurpose Complex have jumped from 36 in 2014 to 59 in 2019. Two weeks into the new year, 50 rentals have already been logged for 2020 and only six weekends remain open in 2020.
"We can make some more of those Monday-through-Thursday events work," McQueen told councilmembers.
John Burnett, a member of the Fannin County Multipurpose Complex Board of Directors, credited McQueen for much of the success the facility has enjoyed.
""It would be nowhere close to where it is today without Dale McQueen," Mr. Burnett remarked.
*****
Councilmembers unanimously ratified action by Bonham Economic Development Corporation (BEDCo) to sell a 2.6 acre parcel located adjacent to and just to the west of Holiday Inn Express & Suites to a commercial developer.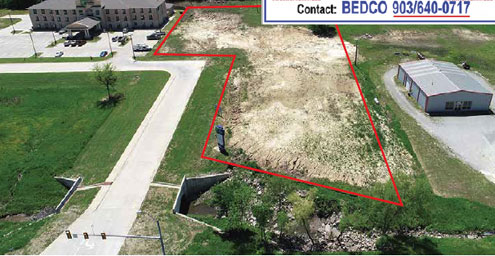 The BEDCo board met earlier on Monday and unanimously approved sale of the acreage to Saratoga Investments, LLC for $185,000.
Bonham City Manager Sean Pate pointed out that the property -- once transferred -- will be back on city tax rolls and endorsed the BEDCo decision.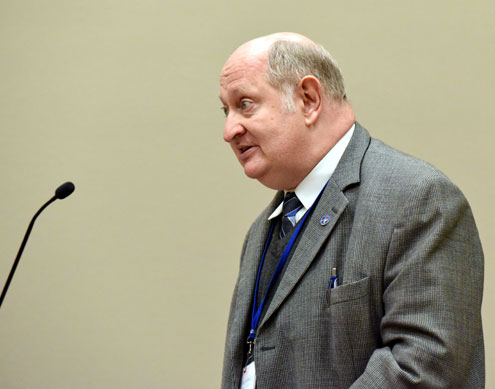 Stephen Filipowicz, Executive Director, Bonham Economic Development Corporation informs councilmembers that the BEDCo board unanimously voted in favor of the sale to Saratoga Investments, LLC.
*****
Bonham City Council approved an ordinance designating the placement of traffic signs in the City of Bonham at nine intersections.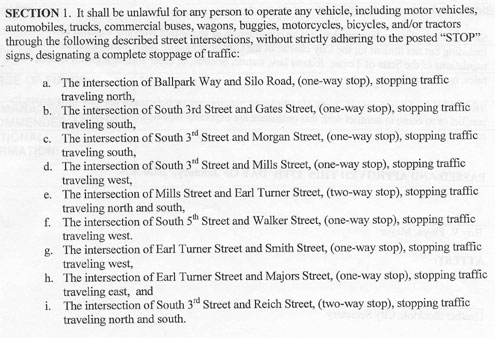 Councilmembers recessed for executive session, however no action was taken.