Lifestyles
Win a playhouse and encourage imaginative play with your children
Feb 13, 2020
Fannin County, Texas -- Get your raffle tickets now. Win a playhouse and provide the children in your life a space for imaginative play, which is considered to be important to the development of their cognitive & social skills. This kind of play helps children understand the world around them and improves their ability to preforms tasks in real life. You could add a play phone, a play kitchen or other items so the children can express themselves physically and verbally, they can act, react and interact and try out different roles and scenarios within their safe space.
The Fannin County Family Crisis Center is raffling off a playhouse designed as a spacious beach house. Ticket prices are: 1 ticket for $3, 2 for $5, 4 for $10 and 8 for $20. The drawing will be on Valentine's Day, 2020. The playhouse can be delivered anywhere is Fannin County.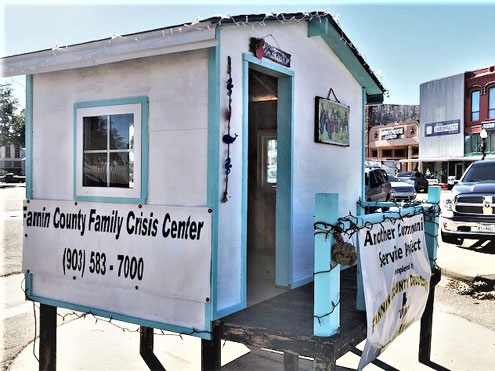 Money raised from the raffle will be used to provide much needed services for victims of domestic violence, sexual assault or other violent crimes. These types of crimes harm families in many ways. Domestic violence and adult sexual assault are the number one underreported crime in our nation. Victims often believe they are to blame, are filled with so much shame and fear they cannot make it on their own. These beliefs keep them from getting help, which in turn, causes more harm to themselves and their children.
We can help!
If you or someone you know could benefit from our services, please call or visit our office. All information is kept confidential.
Sometimes friends or family suspects or knows of someone in a bad situation and they just do not know what to do. You may be the lifeline that calls us or offers to come with the person to our office.
We are located at 118 East Sam Rayburn Drive in Bonham and our 24/7 hotline is 903-583-7000.
Like us on Facebook at Fannin CrisisCenter
You can get your raffle tickets at the flowing locations:
· Fannin County Family Crisis Center in Bonham
· First United Bank in Bonham
· Creative Art Center in Bonham
· Bonham Chamber of Commerce/Bonham Visitor Center
· Eagerly Sought in Honey Grove
· Leonard Pharmacy in Leonard