Columnists
Ten exceptional people
Feb 15, 2020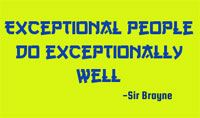 Every one of us is one of a kind; we all have our good points as well as our bad points. The following people are also one of a kind, however these people are also exceptional and very unique. In thinking about this list, I chose people that to my way of thinking stand out as being truly like no others. There are other people who also may qualify for this list, however I am just writing about the first nine I thought of and a friend suggested number ten for me.

Dick Clark - 6-20-25 -- 5-08-71 - (82) Dick Clark started out as a disc jockey on WFIL Radio in Philadelphia, however he was best known as the longtime very popular host of American Bandstand. Dick was a much admired positive influence on the many teenage dancers who were on his show and he was a major force in changing pop culture as several of the popular singers in the early days of "rock and roll" got their start on American Bandstand. He also formed Dick Clark Productions, authored several books, was the host of several television shows including New Year's Rocking Eve, owned several "American Bandstand Grills" around the country, and was just as nice in person as you hoped he might be. In December of 2004 he suffered what was initially thought to be a minor stroke; until that setback he had been a man of amazing energy.

Billy Graham - 11-7-18 -- 2-21-18 - (99) Billy Graham was known as "America's Preacher," one of his biographers referred to him as among the most influential Christian leaders of the 20th century. Reverend Graham wrote thirty books, however he was best known for his world wide crusades. His combination of religious conviction and commanding stage presence was responsible for bringing millions of people to Christ. Reverend Graham was also a spiritual adviser to twelve presidents from Harry Truman to Barack Obama.

Bob Hope - 5-29-03 -- 7-27-03 - (100) I wrote about Bob Hope in a previous column, although born in England he became known as America's Greatest Entertainer. He was the only person that the United States Congress ever gave the title of Honorary Veteran," a title he justly deserved because of all the many Christmas shows he did to entertain our troops overseas.

Martin Luther King - 1-15-29 -- 4-04-68 - (39) Martin Luther King was an American Christian Minister who became the most visible force in the Civil Rights Movement until his assassination in 1968. He is remembered as being a long time advocate of non violence, he made many speeches related to civil rights with his "I Have a Dream" speech being the most famous. In 1983 President Ronald Reagan honored King by making "Martin Luther King Day" a federal holiday, it is observed on the third Monday in January.

Tom Landry - 9-11-24 -- 2-12-00 - (75) In 1960 Tom Landry became the first football coach for what became known as "America's Team" AKA the Dallas Cowboys, for years Tom admitted that he often confused football with life itself. In 1958 a friend convinced him to attend Bible studies, it was because of those studies that he became a devout Christian and from then on his life was changed forever. He became very involved with the Fellowship of Christian Athletes as were some of his Dallas Cowboy players. He was also much admired for being a true gentleman both on and off the field, on the sidelines he could always be seen wearing a coat and tie and his trademark fedora. I've heard of many people that really didn't care that much about football but became big fans of the Dallas Cowboys just because Tom Landry was their coach. He left quite a legacy, one that will be admired for generations to come.

Abraham Lincoln - 2-12-09 -- 4-15-65 - (56) Abraham Lincoln is on several lists as "America's Greatest President." He may be best remembered for his vital role in preserving the Union during the Civil War and also delivering his Emancipation Proclamation which led to the end of slavery in the United States. Many books have been written about Abraham Lincoln and many movies have been made about him as well, One of my favorites of the movies about Lincoln is from 1940 and stars Raymond Massey, it is about his early days and is titled Abe Lincoln in Illinois. He was assassinated in 1865 by John Wilkes Booth while watching a play at Ford's Theater in Washington.

Audie Murphy - 6-20-25 -- 5-08-71 - (45) Audie Murphy was America's Most Decorated Soldier during World War II, he received every military combat award for valor available from the United States Army as well as the Belgian and French awards for heroism. After his military life he became an actor and starred in the movie To Hell and Back about his military career. During the 1960s he was in Sherman from time to time as he was a close friend with then Texas DPS Sergeant Everett Brandon. The Audie Murphy Museum is located in Greenville, Texas.

Elvis Presley - 01-08- 35 -- 8-16-77 - (42) Known as the "King of Rock and Roll," Elvis Presley's amazing career lasted just over twenty years before he passed away in 1977 at his home in Memphis, Tennessee. Elvis started out singing as a teenager hoping to become famous, I doubt that even he had any idea just how famous he would become. It has been estimated that Elvis sold over 600 million records in the United States and another 400 million worldwide. I first saw Elvis in person at the "Cotton Bowl" in Dallas in 1956; I feel fortunate to have probably seen him perform ten or twelve times throughout his life.

Roy Rogers - 11-05-11 -- 7-06-98 - (86) Born in Ohio as Leonard Slye, he later changed his name to Roy Rogers and became known as "King of the Cowboys." Early in his career he also sang and played guitar as a member of the Sons of the Pioneers; one of their most well known hits was "Tumbling Tumbleweeds." Another song Roy was much identified with was written by his wife Dale. "Happy Trails" played at the end of each episode of the Roy Rogers Show. He starred in over 100 motion pictures and numerous radio and television episodes of the Roy Rogers Show. Just over sixty years ago, in February of 1960, Roy was awarded three stars on the Hollywood Walk of Fame for his work in motion pictures, radio, and television. The old saying "third time's a charm" sure held true in the case of Roy Rogers & Dale Evans' marriage; each had been married twice before, but their marriage lasted fifty one years before Roy's death in 1998. Together they had nine children, four of which were adopted. Back In the 1950s you could have seen Roy Rogers in our area; during some of that time he was part owner and spokesperson for the Yellow Jacket Boat Company which was located in Denison. In grade school one of my favorite possessions was a Roy Rogers lunchbox, I wish I still had it.

Will Rogers - 11-04-79 -- 8-15-35 - (55) Born in Oologah, Oklahoma near Tulsa Will Rogers is thought by many people to have been "America's Greatest Humorist." Will is one of the most versatile people on this list and was known as an actor, a cowboy, a columnist, a humorist, a social commentator, and a Vaudeville performer. Will may be best remembered for his political commentaries, many of those thoughts from years ago still hold true today. The Will Rogers Memorial Museum in Oologah contains the world's largest collection of Will Rogers memorabilia as well as his entire collection of writings. Several years ago I spent an entire Saturday there; it was a day well spent. Will Rogers and famed aviator Wiley Post were killed in a plane crash near Point Barrow, Alaska on August 15, 1935.

The very limited information above is just a capsule summary about each exceptional person, if you want to learn more there is a multitude of information available both in books and on the internet about each one I've mentioned in this column. As I look back over this list of exceptional people one thing I think is that there is not an insincere person among them, as the old saying goes "what you see is what you get."

If you have any comments or questions my e-mail address is deh63shs@yahoo.com.