Front Page
Bois d'Arc Lake monthly progress report
Jun 2, 2020
Fannin County, Texas -- Bois díArc Lake is located northeast of Bonham in Fannin County. Project construction began on the 16,641-acre reservoir in May 2018. The lake and other projects will be able to initially treat and deliver up to 70 million gallons of water daily starting in 2022. This report provides a monthly recap of construction progress and accomplishments.
Crews this past month worked on reconstructing the last part of the dam (previously removed to allow higher amounts of rainwater to flow downstream). Water from the creek will continue to move downstream through the raw water intake structure, under the dam and flow into Bois díArc Creek on the other side.
Crews continue to pour concrete to increase the height of the intake structure and finish the damís spillway.
FM 897 and county roads
Around 11 miles of county and state roads and bridges in Fannin County are being improved or constructed.
The last beam for the FM 897 bridge was installed in April.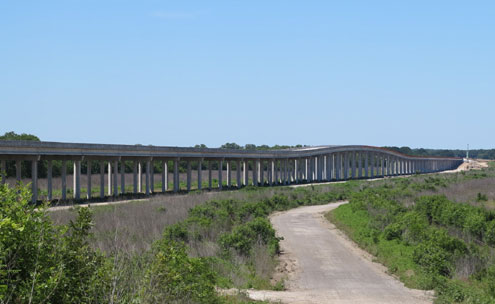 photo by Larry Standlee
Work on the bridge deck and railing is expected to finish by end of May. Construction continues on remaining county roads.
Mitigation land
Improvements are being made to more than 17,000 acres to mitigate for loss of habitat and impacts to local streams from construction of the lake.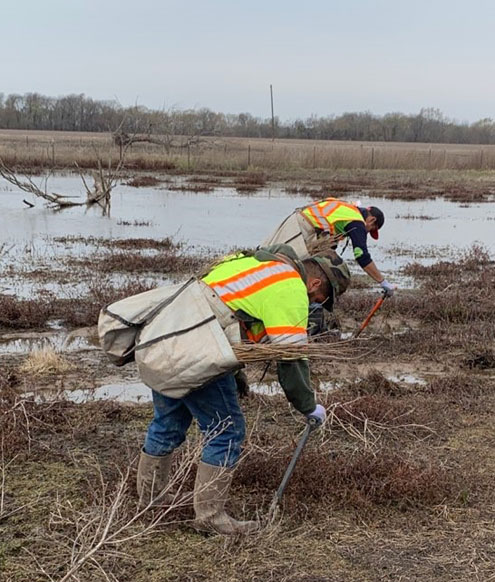 photo courtesy of NTMWD
Workers continue to restore streams, construct ponds, care for new plants and remove invasive ones.
Leonard Water Treatment Plant
Construction includes a storage reservoir and five-step water treatment plant.
Workers continue to pour concrete and install piping for all structures across the site.
Raw water pump station and pipeline
These will pump water out of the reservoir and carry it 35 miles to the new treatment plant.
Crews have completed the major structure of the pump room, setting almost all of the roof beams and beginning to place the deck.
Crews continue pipeline installation in three different locations, and have completed around 13 miles of the raw water pipeline.
Treated water pump station and pipeline
A pump station and 25 miles of new pipe will transport the treated water to the existing NTMWD regional water system.
Crews continue to build the structure of the pump station.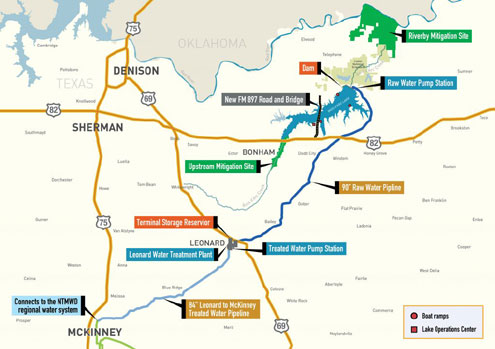 graphic courtesy of NTMWD
Pipeline installation is expected to begin in July, with some preparatory work already underway.
Boat ramp areas and Lake Operations Center
NTMWD is building three public boat ramps, a dam maintenance building and a Lake Operations Center for administrative operations and recreational and educational activities.
Crews have finished the steel frame of the Lake Operations Center and are now working on the walls.
Prefabricated metal warehouse structure is being assembled. Rough-ins for plumbing and utilities at Warehouse and Operations center currently underway. Installation of interior walls and masonry also progressing.
Work on all three boat ramps continues.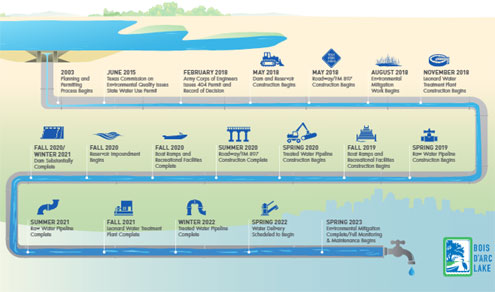 graphic courtesy of NTMWD