Lifestyles
Feeding Fannin helping our neighbors
Jul 1, 2020
Fannin County, Texas -- A few years back, a group came together and formed Good Food Project; they helped with community gardens, helped reestablish Kool Lunch program and educated the community on the needs of healthy food. They also planted a seed with several people who are now serving the community during one of its most trying times. We are a group of many churches, organizations and dedicated individuals.
Feeding Fannin Friday food distributions have become an important day for many residents of Fannin County. Through a lot of planning and hard work, community members created a valuable resource for locals in our high-need area who need extra support getting healthy groceries. Anyone regardless of circumstance is welcome. Everyone needs a little help sometimes.
Since April 2019 in collaboration with North Texas Food Bank the mobile pantry has come to Bonham and Honey Grove.
Recently due to COVID-19, the mobile pantry turned into Disaster Relief providing boxes of staples and produce. On occasion they have also brought kid's snack boxes and fresh milk and orange juice.
Our next distribution will be July 17 at the Pavilion in front of the Bonham Armory. The National Guard will be back to help with the trucks.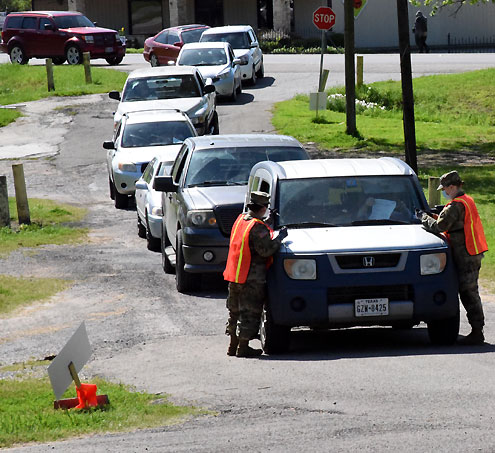 In May, we added Tuesday Super Suppers to provide a good weekly meal to families. Through help with several churches and organizations we have served from 175 – 320 dinners per week. Volunteers also take dinner to the Bonham Police Department, Bonham Fire Department, Open Arms Shelter and to homebound residents who are unable to drive -- unless we run out and that has happened a couple times. The Breakfast Stop's pulled pork with mac and cheese dinner and Solid Rock Church's fresh grilled burgers were huge hits!
First United Methodist, First Presbyterian, Legend Bank, Kwik Chek and North Texas Relief with Hindu Swayamsevak Sangh have also provided delicious dinners. Many families appreciate their generosity and that of local farmers and Master Gardeners including Bearden farms that have donated fresh produce.
In July we will be taking to the road a bit and traveling to Ladonia. On July 16, we will be hosting with Pig & Whistle Restaurant and provide a drive-thru dinner and resource fair with the aid of Texoma Council of Governments. More information on that event will be available ASAP!
If your organization, church or business would like to sponsor a night we would really like to keep Tuesday Super Suppers going until school starts to help families through the summer. You may contact Feeding Fannin through our Facebook page or email terefcfcc@frontier.com or call Tere Curtis during the week at the Crisis Center, 903-583-7694. Anyone wishing to volunteer may contact Andrea Lappin at andrea@fanninccc.org
We appreciate all the great support, volunteers and donations from individuals who want to help their neighbors!
The rainbow has become a symbol of keeping up hope during the pandemic – a young talented volunteer did this special sidewalk drawing for us!