Front Page
Ronnie Ball running for Fannin County Commissioner in Precinct One
Jun 30, 2020
Fannin County, Texas -- I am Ronnie Ball, a lifelong resident of Fannin County. In the month of April 2019, I began the process of running for Fannin County Commissioner in Precinct One. I expected that by the end of May this year, I would either have been elected commissioner, or with some disappointment, be moving on to other things. The COVID-19 Pandemic changed everything, so here we are, finally moving toward the runoff election on July 14. This has not been a good time for running a political campaign. It has not been a time that people were comfortable with handshakes and visits at their front door.
This has also been a time when people had greater concerns in mind than political races. I have tried to respect that by not continually bombarding everyone with campaign pleas. It is my fervent hope that we are coming to an end to the pandemic. I also continue to pray for those that may be sick or endangered by this virus and those who attend to them.
In view of these things, I really appreciate North Texas e-News for giving this opportunity to, in a sense, re-introduce my campaign. During this pause I have been able to learn more about the condition of our county and its needs. One thing that I have learned is that contrary to some statements made by other candidates, we are not on the verge of bankruptcy. We are in fairly good shape financially. Of course, it could be better. Why someone would want to use the term bankrupt may have to do with political efforts to portray the existing commissioners as inept. From what I have observed in the last year and some months, I have come to appreciate the efforts, and actions of the commissioners even more.
Fannin County is a rural county. Many people that move here from metropolitan areas, do so because they like the laid-back country feel. Sometimes though, they seem to expect the same levels of infrastructure and convenience that the city afforded, without considering that it was the crowds, traffic, and congestion of the urban area that provided the tax base necessary for those comforts. The roads in Collin County are not better because their commissioners are better or smarter, it is because there is more tax money to operate with.
I consider myself a "realist". I believe that we need to honestly assess our needs and problems and look for real-world solutions to fix them. For that reason, I believe that a commissioner for Fannin County needs to be "hands on" in the everyday work. The budget of a rural county requires that we get the most possible production out every employee or elected official. As your commissioner, if a call comes in the middle of the night of trees down, blocking a road, I will be headed to the site in minutes with chainsaw and gear in hand, to see if I can clear the way, and avoid overtime costs.
Growth in the county is inevitable. The lakes that are being built, along with the northward expansion of the DFW area assure that it is going to happen, ready or not. I am not going to insult your intelligence by portraying myself as some genius that has all the right answers. However, I do have enough intelligence to learn, and I have the will and dedication to research and gather the information needed to make good decisions. I also have the habit of trying to look at every side of an issue. I try to avoid one-sided assumptions. I am concerned with fair and evenhanded representation of all our citizens.
You have undoubtedly noticed that I have not spent as much as other candidates during this campaign. The prudent use of my and my donor's money in this campaign is indicative of the way I would approach the county budget. I would be very careful with your tax dollars. I realize that a mark of a successful politician is great fundraising. The thing is, I am not a politician. I find it difficult asking hard working folks to donate. The donations that I have received come from people that know me and believe in me. They have given modest, but much appreciated donations with no underlying agenda, and no expectation that I owe them anything other than to be a fair, honest, hardworking commissioner. I have not accepted donations from any elected officials. Campaign Finance Reports are open to the public at the County Clerk's Office.
If elected commissioner, my decisions, and votes will be based entirely upon what I believe is in the best interest of all. I will appreciate the opinions and advice of everyone in county government, but I will be able to make decisions completely free of alliance or obligation to any faction. My loyalty is to the citizens of Fannin County.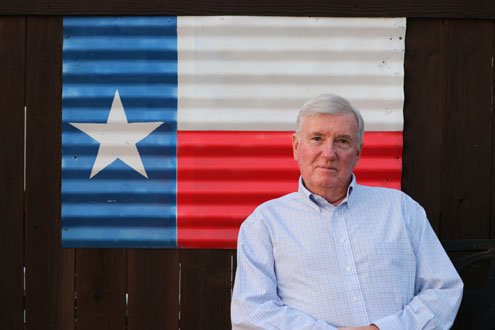 Some have indicated that I have been lacking in detailed plans for road improvement. I have been intentional in that. I have studied and compared the budgets of all Fannin County precincts. I am aware that Precinct One needs some equipment replaced. I could campaign by trying to educate you all on how county roads can be maintained. There are many sources I could go to get that information, and that is certainly something I am actively doing. That in itself though, does not make me an expert, and it doesn't make for realistic, detailed planning. I have been learning and observing the methods of precincts that are doing a better job of maintaining county roads and will continue to do that if elected, I will promise, improved county roads. I am interested in the possibility of cost/equipment sharing with other precincts to get specialized machinery that a lone precinct could not afford.
However, I believe it is premature to make detailed promises about exactly how every county road will be maintained at this point. I know, that on the job, whoever is elected, will learn a great deal more about how to efficiently maintain and improve county roads. Improvement of county roads has been a priority for me since day one of this campaign, even before as a resident of this precinct for over 50 years. Early on, I was criticized for my prioritizing of county roads. But I have been consistent and will continue to prioritize county roads. My goal is to see that no road goes unserved and that all roads are improved. I know that this will take time, so I won't promise something unrealistic. But you can count on the fact that roads are and will remain a priority and roads will be improved.
As I said, I am a realist, but I am also an optimist. These are exciting times in Fannin County. I expect that there will be a time in the not too distant future when many more people will appreciate and be proud of the restored courthouse. I have the hope that most of the dire predictions about Lake Bois D Arc will prove unfounded, and that most of our citizens will be thankful for it and enjoy it. I don't expect Utopia, but I believe that Fannin County has a lot of good people that are raising good kids and I plan to work for a good future for the next generations.
Early voting started Monday, June 29 and goes through Thursday, July 2; then, Monday, July 6 through Friday, July 10. Election Day is Tuesday, July 14. All voting will be at the old National Guard Armory building at the Trade Days grounds. I am thankful for friends and neighbors that voted for me in the March Primary. I need your support once again in this runoff election. Thank you for this opportunity.
Ronnie Ball