Front Page
Dallas County has third-consecutive day of record number of new COVID-19 cases
Jun 30, 2020
Austin, Texas -- The daily data release by Texas Department of Health and Human Services reflected a downturn in new COVID-19 cases statewide, but the surge continued in Dallas County where a record number of new cases was reported for the third-consecutive day.
After averaging 5,640 new cases for the past six days, Texas turned in 4,288 cases Monday, a significant reduction from 5,357 on Sunday.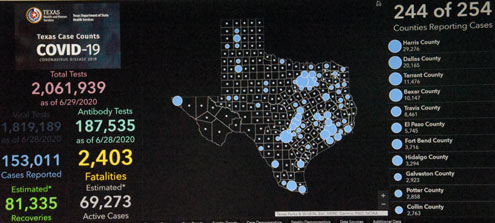 Harris County also reported a sharp drop in new cases on Monday, but it is too early to tell if that was an anomaly or if Harris County is bringing its spike in numbers under control.
Travis County turned in 636 new cases Monday, its second highest total since the pandemic began, but a notable decline from 728 new cases Sunday.
Dallas County had an all-time high of 570 cases Monday, up from 561 on Sunday and 496 new cases Saturday.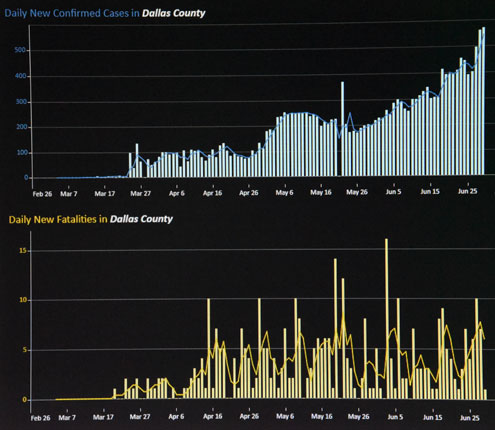 Dallas County
Collin County reported 92 new cases Monday, down from 139 new cases Sunday.
Denton County has had two encouraging days, with 49 new cases Sunday and 40 new cases Monday.
The numbers also looked good in Grayson County where only three new cases were logged Monday.
There was no report from Hunt and Lamar counties on Monday.
The Fannin County Office of Emergency Management update for June 29 shows the county with 82 confirmed cases, 49 estimated recoveries, 26 active cases and seven deaths.