Local News
COVID-19 report for Monday, July 20
Jul 21, 2020
Austin, Texas -- After reporting more than 10,000 newly confirmed cases of COVID-19 for five-consecutive days, the new cases in Texas dropped to 7,300 on Sunday and 7,404 on Monday. It is worth noting that the numbers released by Texas Department of State Health Service have routinely dipped on those two days of the week, but Texans are hopeful that the downward trends in new cases and deaths related to COVID-19 will continue, instead of rising sharply during the middle of the week as has been the case for the past month.
On Monday, Texas suffered 62 fatalities related to the novel coronavirus, the lowest death toll in six days. The state had averaged 120.5 fatalities per day from July 14 through July 19.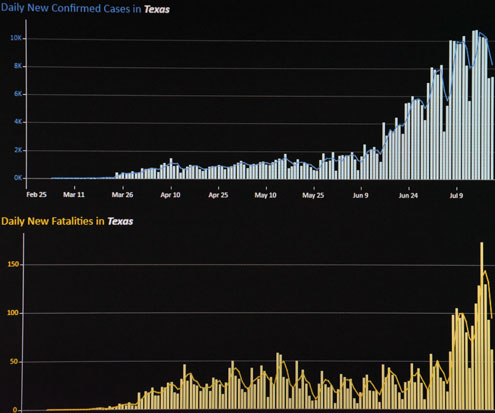 As of July 19, the seven-day positivity rate in Texas was 14.67%, the lowest rate in nine days.
Hospitalization of lab-confirmed COVID-19 patients has hovered around 10,500 for 10 days, however the state has experienced an increase in available hospital beds as well as ICU beds in recent days.
The hotspot in Texas on Monday was Bexar County and the greater San Antonio area which reported 1,985 new cases and 17 fatalities in Monday's data release by Texas Department of State Health Services. A portion of that surge is due to a backlog in laboratory reporting.
Harris County had 963 new cases during the past 24 hours, the lowest total in 10 days.
In North Texas, Dallas County experienced it's 17th-consecutive day with more that 1,000 newly confirmed cases. Dallas County was advised of 1,044 new cases Monday.
Tarrant County had 422 new cases, Collin County was notified of 83 new cases and Denton County reported 81 new cases.
All eyes will be on Tuesday's data release by Texas Department of State Health Services to see if this promising trend continues.