School News
School supply drive-thru giveaway
Aug 3, 2020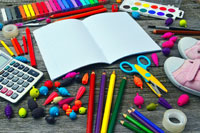 Bonham, Texas -- Donations are still needed for the 24th annual School Supply Drive hosted by the Fannin County Children's Center. With local school districts planning for in-person school as one of the options starting in August, the Children's Center is moving forward with plans to giveaway free school supplies on Saturday, August 8 from 9:00 a.m. to 2:00 p.m.

Because of COVID-19, the event will look a little different than in year's past. The give away will be a drive-thru event, where families will pull up in their vehicles in front of the center, staff will gather basic information and supplies will be provided without the families having to get out of their cars. The line will go from east to west on Fifth Street, in front of the Children's Center at 112 W. 5th Street in Bonham. Cars should get in line going south on Main street, turning right on Fifth Street. A drawing will soon be posted on the Center's website and social media sites.

With this giveaway event coming up really soon, the center is seeking donations to make this effort possible. "As always, every contribution is appreciated and needed" said Sandy Barber, Executive Director of the Children's Center. The center is now accepting paper, notebooks, pencils, folders, crayons, backpacks and other school supplies. Barber said, "Donors can also donate cash and leave the shopping to us. We will use it to buy what is most needed and we will stretch the donation farther by using our tax-exempt status when making the purchases."

In all, the agency has given out free school supplies to more than 10,000 students in the last 23 years. Organizers expect to serve 500-700 students again this year. This effort depends on contributions from many different individuals, churches, businesses and other local organizations.

Items needed include: notebook paper, pens, pencils, three-ring notebooks, folders with and without brads, spiral notebooks, scissors, markers, crayons, red pens and pencils, highlighters, glue sticks, glue in bottles, erasers, backpacks, construction paper, manilla paper, watercolor paints, pencil boxes and pencil bags.

Contributions can be delivered to the center at 112 West Fifth Street, Bonham, TX anytime they are open from Monday – Friday 8 am to 5 pm. Checks can be made out to FCCC and should include a brief notation that the gift is for school supplies. Donations can also be made on-line at www.fanninccc.org. All donations are tax deductible to the extent allowable by law. Organizers request that contributions arrive as soon as possible to allow time for organization and preparations. For more information, call (903) 583-4339 or go to www.fanninccc.org.