Lifestyles
Republican Women host Pat Fallon, Republican nominee for Congressional District 4
Oct 5, 2020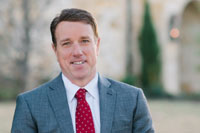 Fannin County, Texas -- The Fannin County Republican Women are thrilled to announce our speaker for the October 5, 2020 meeting is Pat Fallon, the Republican Nominee for CD4 and a former Texas State Senator.

Former Congressman John Ratcliff was appointed as Director of National Security, which caused the vacancy of CD 4 after the Republican Primary. Due to the timing of the vacancy, Republican Party Precinct chairman/chairwomen and Republican Party County Chairmen/Chairwomen of the 18 counties which comprise CD 4 voted in August of this year and Pat Fallon was selected.

Mr. Fallon will speak about how he will represent CD 4, in the event he is elected in November and to get out the vote. The meeting will begin at 6:00 p.m. at the Family Life Center, 200 W 8th Street, Bonham, Texas and will conclude at 7:15 p.m. The public is invited and welcome to attend. Social distancing will be practiced and everyone is encouraged to wear masks. Masks will be available at the door.

Additionally, the FCRW continue to collect canned food and nonperishable food items for donation to local food pantries which are in great need during the pandemic. If everyone brings a little, we can make a great difference!