Lifestyles
The Rockafellas at Powder Creek Pavilion Oct. 3
Oct 3, 2020
Saturday, October 3 at 8:00 p.m.
Powder Creek Pavilion
520 S. Center St.
Bonham, TX. 75418
Bonham, Texas -- The Rockafellas, a rock and roll cover band from Dallas, Texas has achieved what many never do... longevity. A six-year journey through the Dallas-Fort Worth music scene finds this five-piece ensemble at the Powder Creek Pavilion in Bonham, Texas on October 3.
The group has had many outdoor shows, so they are ready to bring the music to this beautiful outdoor venue.
"We started out with some shows outside, with no covering and a stage barely big enough for the drums," states Eddie Brown, aka Sir Edward Rockafella, one of the band's two guitarists. "So the Powder Creek Pavilion's grand stage will be a luxury for us. Thank you Rick Massey."
A song for everyone is what this band brings to their crowds. A variety of rock styles ranging from classic, to '80s to today's top 40 rock always seems to be in their sets.
"If you like Bryan Adams, Foo Fighters or Led Zeppelin, or really all three, we are the band for you," states Steve Giglio, aka Steve Esquire Rockafella, the charismatic lead singer, when asked what a crowd can expect from the band.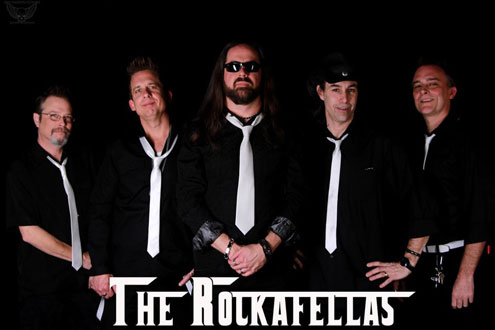 Added Bill Howe, their other guitarist, aka Rev. Billy Rockafella, "The crowd wants to be entertained and forget about their day-to-day and that's what we give them...a chance to cut loose and enjoy the music."
Built on a steady regime of rehearsals and constant improvement, the band is enjoying the fruits of their hard work. Re-bookings and support from returning fans. As well as bigger stages and private parties.
Bassist John Ashworth, better known to fans as JM Fingers Rockafella, remarked, "I cannot tell you of another band who works harder than us. The response from our crowds and bookers is proof our product is grade 'A'. This band serves up 3 hours on any given night and from the first set to the last song, it just gets better and rocks harder."
When asked what we can expect from this powerhouse band in the upcoming year, drummer Bob Riddle, Bobby Real Deal, exclaimed proudly, ''Only the best DFW and the surrounding cities have to offer! We may be in year six, but it's really the beginning of the most entertaining show the people could ask for."
A powerhouse indeed. The Rockafellas take the Stage October 3, at 8:00 p.m. at the Powder Creek Pavilion in Bonham Texas.