Lifestyles
Busy weekend in Bonham
Oct 10, 2020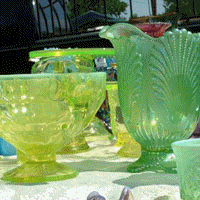 Bonham, Texas -- So many events to choose from this weekend, October 8-11 in Bonham. Begin with our monthly Trade Days, located at the corner of Hwy. 56 and Hwy. 121. Vendors begin arriving on Thursday and will have treasures for you to find from Thursday through Sunday. The vendors begin to close about 3:00 p.m. to 4:00 p.m. on Sunday, October 11. Masks are not required, but encouraged.

The annual Bonham Public Library- Pumpkin Patch will be held on Saturday morning starting at 9:00 a.m.-1:00 p.m. Decorated Pumpkins, crafts, and baked goods as well as their famous hot sauce. Go early for the best selection.

Great Days of Service will be going on Saturday with service projects being done all over the town. Sign-up to participate @ gdsbonham.org

Feet can tap and heads can nod at the Bonham Snap Center Gospel Singing on Saturday night from 6:00 p.m. to 8:00 p.m.

The Powder Creek Pavilion is showcasing "Still Kicking" which will entertain you with Classic Rock at 8:00 p.m. On Saturday they are presenting "C7" both Rock and Traditional Country.

Sam Rayburn House Museum is open showing the home life of the longest serving U.S. Speaker of the House of Representatives Friday-Saturday 10:00 a.m. - 4:00 p.m.

Fannin County Historical Museum will take you from the earliest times of Fannin County to the "Turbulent 1940's and the Rocking 1950's. They will be open Friday and Saturday 12:00 p.m. to 4:00 p.m.

Creative Arts Center is open Friday 10:00 a.m.-5:00 p.m. and Saturday 9:00 a.m.-1:00 p.m. for your viewing of their art exhibits as well as shopping for hand-made crafts.