Lifestyles
Historic Hendrix Cemetery Rededication
Oct 14, 2020
Sherman, Texas -- Saturday, October 10, decedents of the Hendricks/Jennings gathered with members of Martha Jefferson Randolph Daughters of the American Revolution at an almost forgotten cemetery that sits northeast of Sherman on Hayes Street near Hilltop Dr. to celebrate the clean up of this historic cemetery.
About a year ago the Martha Jefferson Randolph Chapter discovered the one-acre historic cemetery with ties to a Revolutionary War Patriot was in desperate need of attention. On October 10 at 10:30 a.m. we welcomed family members and recognized all those folks that helped clean the cemetery. Our chapter is so excited to hear the plans that the family has for continued improvement and restoration of fences and a new gate. We will be helping and following this project closely.
We had many thanks to hand out on Saturday for help getting the project completed and here are a few we want to thank one more time. Thanks go to Shannon Waters, whose research let to the discovery of the cemetery in dire need help. To Cheryl Waters for bringing it to the attention of Martha Jefferson Randolph DAR. Her research that led to finding so many folks that are descendants of those buried in the cemetery.
A huge thank you to Grayson County Commissioner Jeff Whitmire for arranging the heavy clean up done by the county, it would not have happened without the help of Grayson County. And finally, Honorary Regent Sarah Beaver for adopting such an enormous project and seeing it through with such determination.
It was heartwarming to see how grateful family members were on hand to see the huge improvement in this family cemetery and hear the commitment from the younger family members who want to oversee the continued preservation of this historic site.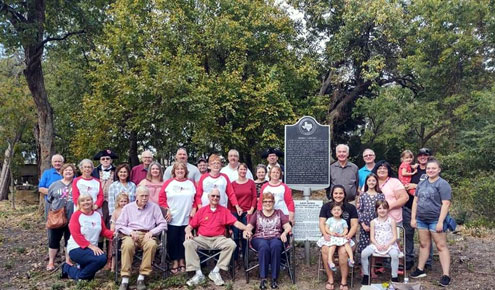 The Martha Jefferson Randolph Chapter DAR was founded in Sherman in December 1927 and has worked on many historic and patriotic projects over the years and currently boast a vibrate group of 129 members. For more information about membership in the group contact jgwagon@gmail.com
The National Society Daughters of the American Revolution was founded in 1890 to promote historic preservation, education and patriotism. Its members are descended from the patriots who won American independence during the Revolutionary War. With more than 185,000 members in approximately 3,000 chapters worldwide, DAR is one of the world's largest and most active service organizations.
DAR members are committed to volunteer service having served more than 12.5 million hours in communities throughout the world during the past three years.
To learn more about the work of today's DAR, visit www.DAR.org or connect with DAR on social media at facebook.com/TodaysDAR, twitter.com/TodaysDAR and youtube.com/TodaysDAR.