Religion
Bethlehem Baptist Church in Bonham to host 5th Annual Police - Fire Lunch
Nov 8, 2020
Bonham, Texas -- We the Senior Pastor, officers and members of the Bethlehem Baptist Church - The House of Bread would like to wish all of the dedicated men and women of every law enforcement and fire departments of Fannin County a very joyous and happy holiday season.
In honor of your tremendous service to our community the Bethlehem Baptist Church - The House of Bread family invites you to our 5th Annual Day of Thanks Luncheon, as we show our appreciation for all that you do.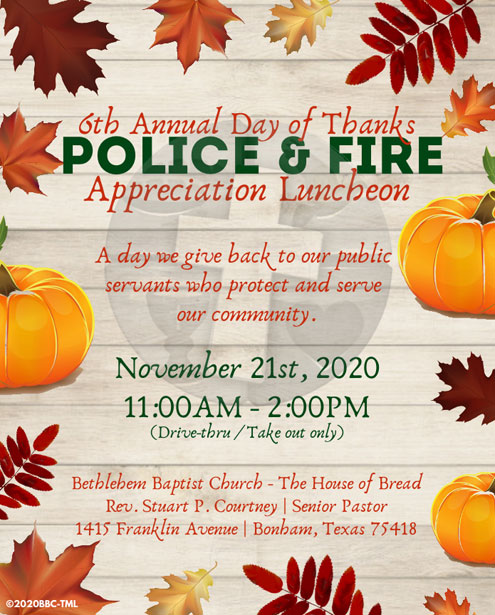 We will prepare a hot lunch on Saturday, November 21 from 11:00 a.m. to 2:00 p.m. During this time period, on duty and off duty officers, dispatchers and firefighters/paramedics can stop by to get a well-balanced hot meal. Due to COVID-19, we are taking a safety approach by providing a drive-thru/pick up option only. We will miss the interaction with you all like in the past sitting in the Fellowship Hall and enjoying your fellowship.
Hopefully in 2021 we can meet in-person again, please understand this was a hard decision to make to cancel the
in-person luncheon.
Again, this is our opportunity to serve you and say thanks for the tremendous job that you do as community servants. We look forward to this event to show our appreciation.