Lifestyles
Don't like chiseling in our clay soil? Try a raised bed for your garden
Nov 23, 2020
Grayson County, Texas -- We generally think of fall as a time to rest from gardening. The truth is, with immediate gardening chores done, our minds start drifting toward new projects, like raised beds. If you are even thinking about raised beds, you have already looked at the pros and cons; mostly pros.
Using raised beds has many advantages if a few basic principles are followed. In constructing our beds, mistakes were made, some of which were hard to correct, and lessons were learned with each successive build. I hope to give you a good start and, in the process, save you some headaches.
Like any valuable real estate, the first rule is location, location, location. What you want to grow will determine where you grow it. Vegetables, herbs and wildflowers will need full sun. Are you growing annuals or perennials? Bulbs? Ornamentals? If you are installing a raised bed now, be sure to note that your sun and shade will be slightly different come summer.
After you find the perfect spot, size will be your next consideration. Length will be up to you, but width should be no more than four feet so you can reach the center from either side. If you decide to put in more than one bed, be sure to leave clearance for walking, lawnmowers or weed eaters, and wheelbarrows for maintenance. A little bit of forethought will save a lot of steps. Just remember, what you measure, you manage.
Next (and this is a big one), be sure to kill out the existing grass or weeds. Spray glyphosate or cover the bottom of your bed with cardboard or layers of newspaper, which will eventually decompose. Whatever your method, just do it. This is Texas, y'all. Bermuda and Johnson grass will survive 12 inches of soil being piled on top of it. Ask me how I know.
Here comes the fun part – deciding what materials to use for your beds. Time, budget, ability and imagination will determine how your boxes come together. We have used purchased landscape timbers, scavenged railroad ties, repurposed fence panels salvaged from the curb and lined with tin, mineral buckets and even filled a discarded bathtub with spider lilies. The depth needs to be at least eight inches. The endless world of Google and Pinterest will ignite your creativity.
Now all you need is soil. A good raised bed mix can be purchased in bulk at several of our local nurseries or stone yards. Good soil is your foundation. Don't scrimp here. All your hard work up to this point will be for naught if your soil is not healthy. Just like in-ground beds, raised bed soil will need some seasonal maintenance, albeit not as much. As organic matter decomposes, compost will need to be added occasionally. Mulch is always in season; it conserves water in summer and is a warm blanket in winter.
Congratulations! Mission accomplished. You have careful placement, manageable size, ready ground, picture perfect beds and a solid soil foundation. Soon enough, the soil will warm and plants or seeds can be sown. Just add water. Oh, the joy of it all!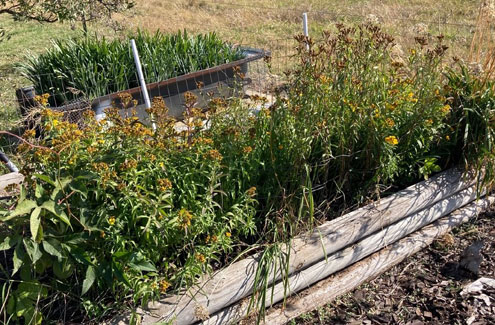 There's a detailed pamphlet available from Agrilife about raised bed construction. Follow this link: https://aggie-horticulture.tamu.edu/.../files/.../E-560_raised_bed_garden.pdf
Grayson County Master Gardeners Association is a non-profit 501(c)(3) organization sponsored by the Texas A&M AgriLife Extension Service. Reach us by email at mastergardeners@co.grayson.tx.us, by phone 903-813-4204, our web page txmg.org/grayson, or our Facebook group.