School News
Learn and Earn: Dallas College Manufacturing apprenticeship program provides pathway to success
Jan 6, 2021
Garland, Texas -- A Dallas College apprenticeship program is taking "on-the-job training" to a new level. The effort is a partnership among the Dallas County Manufacturers' Association (DCMA), American aerospace and defense corporation, General Dynamics and the Garland Chamber of Commerce.
Nestled inside the walls of Dallas College's Garland Center, you will find instructors Jon Beggs and Darlena Kelly leading a small, but mighty group of four apprentices – each united by their personal and professional interests in all-things machinery. Together, they make up the second-ever cohort of the Computer Numerical Control (CNC) Machine Operator Apprenticeship.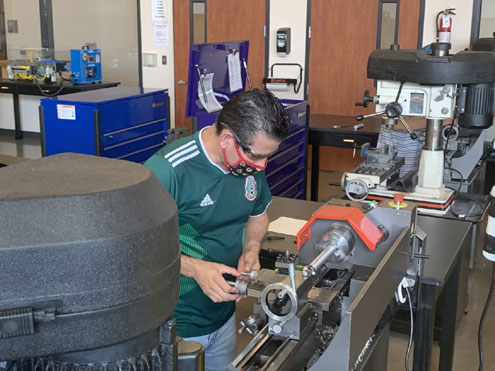 CNC Machine Operator Apprenticeship Program students at work.
"We're trying to get them to the next level," said Beggs. "When you're running a machine, you are simply told to punch this button. But through this program, we're trying to teach them why they're punching that button."
The two-year competency-based program – the first-of-its-kind in Garland – includes 352 hours of classroom instruction at the Garland Center. Once a week for eight hours, students are taught everything from the 'fundamentals of machine shop math' to 'precision measurement'. There is also an additional on-the-job learning component.
"It's really like a work day for them. They clock in and we have our assignments ready to go," said Beggs. "I take what's in the textbook and bring it back to what the students will understand.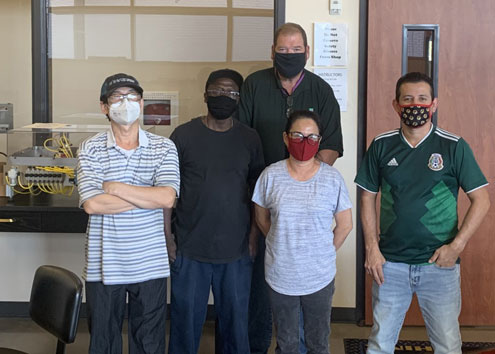 CNC Machine Operator apprentices
The students, or apprentices, are current General Dynamics employees who have been identified and selected for the chance to hone their skills, all while earning a salary. It's an opportunity that Roger Cosby accepted without hesitation.
"General Dynamics selected me based on my work ethic and I said let's go for it," Cosby said. "This experience has really opened my eyes. I have been amazed because I didn't even know the machines could do this."
At 59, the military veteran has worked as a senior operator at General Dynamics for the past 5 ˝ years and has 20 years of experience in the field. Yet, he says, there is still more to learn.
"There is absolutely nothing wrong with learning. The best thing in life is the learning process," Cosby said.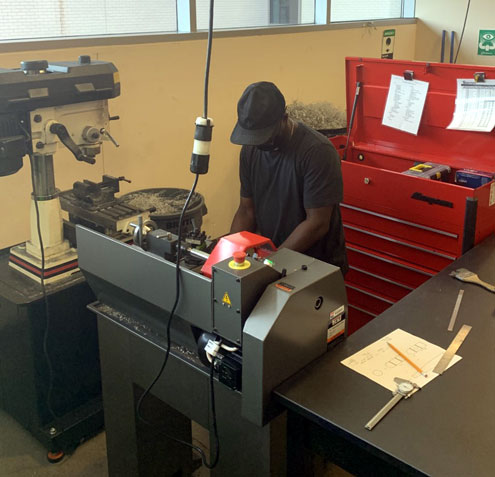 Roger Cosby at work on equipment inside Dallas College Garland Center.
The apprenticeship was built with employees like Cosby in mind. Comprised of over 320 manufacturers in Garland – like General Dynamics, DCMA was formed in 2006 with help from Dallas College – Richland Campus (formerly Richland College). The goal: provide support and training to the local manufacturing community. General Dynamics was the first to raise its hand for the support by creating an official apprenticeship program.
"It provides us the opportunity to be involved with the success of those in the community along with our internal employees," said Patricia Cortez, an HR generalist for General Dynamics. "The apprenticeship program offers our employees the ability to gain new skills that will make them more valuable both inside and outside of our organization. The program also allows us to create a pipeline of skilled talent that will be the future of our workforce."
Dallas College provides the space, equipment and qualified instructors who bring a welcomed familiarity of General Dynamics and its practices. This allows for tailored curriculum that aligns with the company's workforce development needs.
"For years, companies have come to rely on the Chamber to bring resources to the table," said Paul Mayer, CEO of the Garland Chamber of Commerce. "Our relationship with Dallas College goes back thirty years and is a natural place to turn for their expertise in training people to achieve a higher level in the workplace."
The idea of a classroom-to-workforce pipeline has a direct correlation with Dallas College's mission of "transforming lives and communities through higher education."
"This is a win for everybody," Beggs said. "It is a major investment, but it gives employees the safe space to make mistakes, ask questions and advance in their career."
To date, a total of six General Dynamics employees have trained at the Garland Center. The current cohort is on track to complete the program and earn a completion certificate, by the end of January 2021 – a delayed finish due to the COVID-19 pandemic. However, while boasting a perfect attendance record, the group has proved nothing outshines the power of determination and a will to succeed.
For more information on the CNC Machine Operator Apprenticeship Program, contact Konley Kelley, director of community outreach, by phone at 214-995-5184 or by email at kkelley@dcccd.edu.