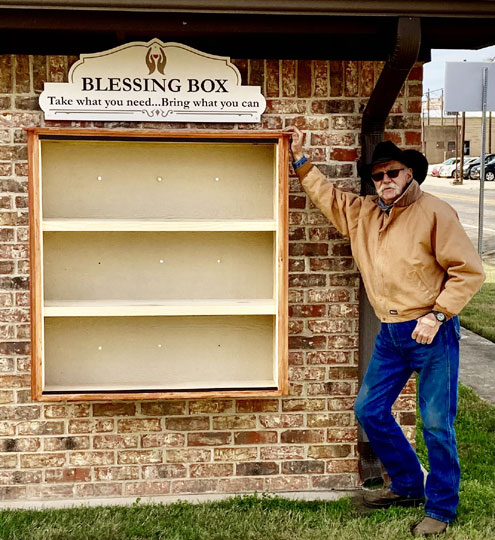 The public is invited and encouraged to help restock the box with non-perishable food and personal items.
"Things we take for granted having every day on a regular basis are items people in the community might not have," Pastor Cindy Baker Burnett said. "Those are the things that would benefit a homeless or less-fortunate person."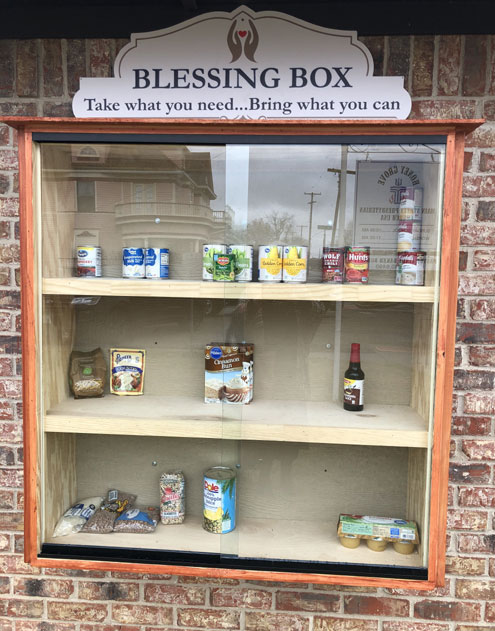 If community people would like to donate money toward supplying the Blessing Box, rather than bringing food, checks can be mailed to Main Street Presbyterian Church, P.O. Box 188, Honey Grove, TX 75446. Please designate it for the Blessing Box. It turns out that a Blessing Box is like a little free library, but for food and toiletries.

These are the items most commonly donated and used to stock the Blessing Box:
FOOD ITEMS: peanut butter, tuna, canned spaghetti, ravioli, hearty soups, fruits, canned broth, cornbread mix, canned vegetables, etc.
NON-FOOD ITEMS: socks, mittens, hand warmers, toilet paper, bottled water, toiletries (hand soap, toothbrushes, toothpaste, etc.), baby wipes
Main Street session member, Tammy Whitlock, is in charge of monitoring the Blessing Box. She and her grandchildren Kamy and Aidyn were the first to place items in the box, shortly after Carl and Lanny had completed the mounting of the box on Saturday.
"And he answered them, 'Whoever has two tunics is to share with him who has none, and whoever has food is to do likewise.'" Luke 3:11