School News
Einstein Bros. Bagel shop coming to Southeastern campus in 2021
Jan 25, 2021
Durant, Okla. – A new dining and gathering spot is coming to the campus of Southeastern Oklahoma State University in 2021.
Einstein Bros. Bagels (Einsteins) will be located next to the SE Barnes & Noble store on University Avenue, with the anticipated opening next summer.
Einsteins will be open for breakfast and lunch, with a menu that includes bagels, salads, wraps, sandwiches, desserts, and a full-service coffee bar now crafting Caribou Coffee. It will also be the first Einstein Bros. at a university to feature the convenience of a drive-thru.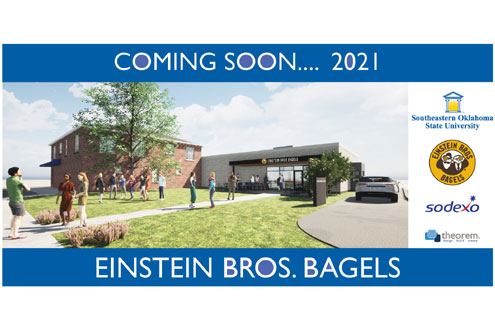 "We are excited to partner with Einstein Bros. and Sodexo to bring this well-known national brand to Durant,'' said Southeastern president Thomas Newsom. "It will provide a third option for our students to utilize their meal plans (others are cafeteria and Magnolia Eatery), and in addition, it will be open to the community.''
The new facility is being funded with capital dollars from Sodexo and auxiliary revenue.