Local News
Vaccine delivery a week away for Clyde W. Cosper Texas State Veterans Home in Bonham
Dec 31, 2020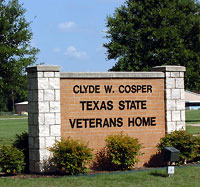 Bonham, Texas -- According to a spokesperson for Texas Veterans Land Board, it may be another week before COVID-19 vaccines arrive at Clyde W. Cosper Texas State Veterans Home in Bonham.

The veterans home in Bonham was one of the hardest-hit veterans facilities operated by Veterans Land Board, with 26 fatalities related to the novel coronavirus.

Clyde W. Cosper Texas State Veterans Home currently has 100 residents. To date, 84 veterans at the facility have tested positive for CVID-19, with an estimated 57 recoveries. As of December 29, one veteran is currently positive.

Since the onset of pandemic, 66 members of the staff have tested positive; two are currently positive.

According to Matt Atwood, Press Secretary for Texas General Land Office which oversees Texas Veterans Land Board (VLB), "The VLB continues to work with the governorís office on expediting delivery of vaccines to veteran homes across the state. We are expecting to have vaccines ready for Bonham as early as January 7."