Local News
COVID is on the run - Judge Moore gets vaccine 12-29-2020
Dec 31, 2020
Fannin County, Texas -- Fannin County Judge Randy Moore received his vaccine Tuesday, December 29, 2020. Judge Moore said he didn't even know the nurse had given him the shot until he saw she was putting on the bandage.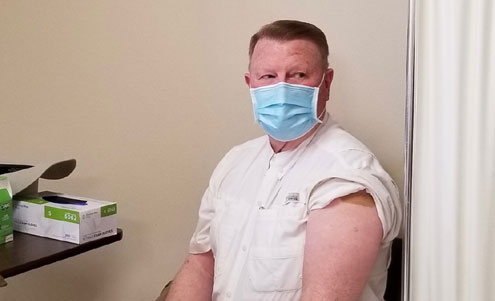 Fannin County Judge Randy Moore
Our local caregivers are doing a fantastic job! Vaccinations may also be received at Puckett Family Clinic in Honey Grove or Brookshire's in Bonham.
Receiving the Covid vaccine is completely voluntary.
Please call the TMC Hospital Bonham, Puckett Family Clinic or Brookshire's pharmacy in advance to check eligibility and schedule a time for your vaccination.
TMC-Bonham Staff: Amy Norwood, Nick Arledge, Trish McBean, Tiffany Camp