Local News
COVID-19 report for January 6
Jan 7, 2021
Texas Department of State Health Services COVID-19 report
Austin, Texas -- The truest indicator of how Texans are faring during the pandemic has been hospitalization numbers; in the past 90 days, the number of COVID-19 patients sick enough to be hospitalized has more than quadrupled. On October 6 there were 3,394 COVID-19 patients in Texas hospitals. Yesterday, on January 6, Texas hospitals contained 13,628 lab-confirmed COVID-19 patients.
With the full impact of holiday gatherings still two weeks away, there are now 544 available ICU beds in the state.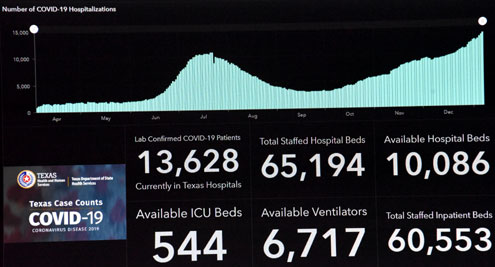 The precipitous increase in hospitalizations is a precursor to more deaths related to the novel coronavirus. The daily data release on Wednesday by Texas Department of State Health Services (DSHS) indicated the state suffered 326 newly reported fatalities due to complications related to COVID-19. At that rate, approximately 1,000 Texans will have their lives cut short every three days because of the pandemic.
DSHS reported roughly 25,000 newly confirmed infections on Wednesday, which is expected to fuel the continued increase in hospitalizations and deaths as the pandemic moves into its most dangerous phase.