Columnists
The year is yours
Jan 11, 2021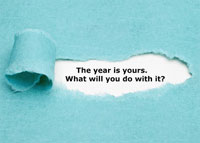 Resolutions are simply a firm decision to do or not do something.
The first New Year's resolutions date back over 4,000 years to ancient Babylon, those first ones were actually made in March. The Babylonians are said to have started the tradition during Akito, a 12-day New Year's Celebration.
By now many of you have your New Year's Resolutions already made, in fact some of you may have already broken yours. According to a study by U.S. News & World Report the failure rate for New Year's resolutions is said to be around eighty percent.
The five most popular New Year's resolutions are exercise save money to get in shape (19.7%), diet to lose weight (18.3%), save money (14.8%), eat healthier (11.9%), and some type of self improvement (5.5%). It goes right along with these percentages that most public gyms have their most membership sign ups in January.
Every New Year's Day in the "Dear Abby" column there is a set of special resolutions, these are as follows:
JUST FOR TODAY: I will live through this day only. I will not brood about yesterday or obsess about tomorrow. I will not set far-reaching goals or try to overcome all my problems at once. I know that I can do something for 24 hours that would overwhelm me if I had to keep it up for a lifetime.
JUST FOR TODAY: I will decide to be happy. I will not dwell on thoughts that depress me. If my mind fills with clouds I will chase them away and fill it with sunshine.
JUST FOR TODAY: I will accept what is. I will face reality. I will correct those things that I can correct and accept those I can not.
JUST FOR TODAY: I will improve my mind. I will read something that requires effort, thought, and concentration. I will not be a mental loafer.
JUST FOR TODAY: I will make a conscious effort to be agreeable. I will be kind and courteous to those who cross my path. and I'll not speak ill of others. I will improve my appearance, speak softly, and not interrupt when someone else is talking.
JUST FOR TODAY: I will refrain from improving anybody but myself.
JUST FOR TODAY: I will do something positive to improve my health. If I'm a smoker, I will quit. And I will get off the couch and take a brisk walk, even if it's only around the block.

JUST FOR TODAY: I will gather the courage to do what's right and take responsibility for my own actions.
These very meaningful resolutions were written by the late Pauline Phillips, the originator of the "Dear Abby" column.
Some New Years Eve trivia, in normal years:
On a normal New Year's Eve a million people gather in Time Square for all the festivities.
One ton of confetti is dropped on those million people at midnight.
The famous Times Square Ball which drops at midnight is twelve feet in diameter, it weights nearly 12,000 pounds.
The Times Square Ball made it's debut in 1907, today 2,688 Waterford Crystal triangles cover the ball.
The traditional way to usher in New Years is by singing "Auld Lang Syne," a very old Scottish folk ballad transcribed and published by poet Robert Burns. The title is said to mean "days long past," "old long ago," or "times gone by." The song has been used for New Year's Eve since 1896, bandleader Guy Lombardo popularized the song beginning in 1929.
I do not make resolutions, why decide to do something that you know won't happen? As far as diets don't fall for every new diet that comes along, most of us would probably be healthier if we just ate sensibly without overeating and got more exercise.
If you do make resolutions be sure to make only those you know you can keep, however don't procrastinate about acting on those resolutions. The time to begin to make those improvements is now so do it, remember the longest journey begins with a single step.

Self improvement is something we can all do, remember none of us am perfect.