School News
Austin College announces Tuition Advantage Program for high schoolers in Grayson County
Jan 17, 2021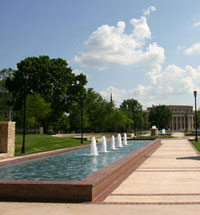 Sherman, Texas -- Eligible Grayson County high school seniors can attend Austin College beginning in Fall Term 2021 for no more than $17,000 a year through its Tuition Advantage Program, announced by Austin College this week.

"We are investing considerable Austin College gift aid—merit and/or institutional scholarships and grants—to reduce tuition costs for this program," Austin College President Steven P. O'Day announced. PELL-eligible students could see their tuition reduced by another 50% through federal and state grants, O'Day said.

The Tuition Advantage Program is available to students at all high schools in Grayson County, O'Day said, describing it as a response to the anxieties and worries nearly all families faced in 2020. "This past year certainly had its trials," he said, "but the resilience shown by Austin College students and by the high schools seniors who have visited campus gives us optimism for the future. We don't want to see students putting their education on hold due to these difficulties."

Baylee Kowert, vice president for Institutional Enrollment, said that the seniors from Grayson County schools could save room and board costs, as they will automatically be eligible to live at home, an option not normally available without individualized exemptions. "As a commuter student, you would be close to your family but also have the opportunity to become part of a dynamic community that has dedicated space on campus to use between classes and extracurricular activities," Kowert said.

In Fall Term 2020, Austin College began its Finish in Four Guarantee, which would also apply to the Tuition Advantage Program participants. "As a commitment to the strengths of Austin College's academic program and personalized mentoring, we have promised that any fulltime students who meet the Finish in Four Guarantee requirements in effect at the time of their enrollment will graduate in four years," Kowert said. If a student meets all those requirements and does not graduate in four years, Austin College will waive tuition costs for any courses needed to complete the degree.

"In these uncertain times, the Austin College community understands that it is good to be close to family, but students do not want to delay their education or put their dreams on hold," O'Day said. "Austin College is a nationally recognized, private college providing an extraordinary education in the liberal arts and sciences. The College has been your neighbor in Grayson County for nearly 145 years. We are committed to supporting the high school seniors of Grayson County as they begin their college degree and move toward achieving their personal goals."

Students at high schools in Sherman, Denison, Pottsboro, S&S, Whitesboro, Collinsville, Bells, Whitewright, Howe, and Gunter, as well as private schools, such as Texoma Christian School, are invited to apply.

Austin College, a private national liberal arts college located north of Dallas in Sherman, Texas, has earned a reputation for excellence in academic preparation, international study, pre-professional foundations, leadership development, committed faculty, and hands-on, adventurous learning opportunities. One of 40 schools profiled in Loren Pope's influential book Colleges That Change Lives, Austin College boasts a welcoming community that embraces diversity and individuality, with more than 50 percent of students identifying as persons of color. The residential student body of approximately 1,300 students and more than 100 expert faculty members allow a 13:1 student-faculty ratio and personalized attention. Related by covenant to the Presbyterian Church (USA), Austin College cultivates an inclusive atmosphere that supports students' faith journeys regardless of religious tradition. The College, founded in 1849, is the oldest institution of higher education in Texas operating under original name and charter.