Local News
COVID-19 report for January 8
Jan 9, 2021
Texas Department of State Health Services COVID-19 report
Austin, Texas -- Every statistic in the daily data release on Friday by Texas Department of State Health Services (DSHS) is another grim reminder of the deepening impact COVID-19 is having throughout the state. On Saturday, hospitalizations are certain to top 14,000 for the first time, DSHS reports 372 newly reported fatalities related to the pandemic and another 23,000 new infections hit the charts.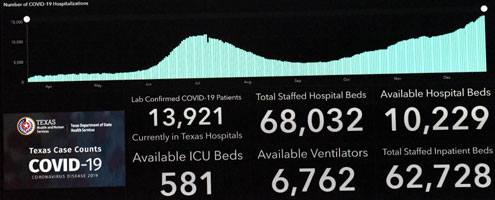 As of Friday, January 8, the lives of 29,310 Texans have been cut short by this novel coronavirus, with approximately 1,000 fatalities related to COVID-19 occurring every three days.
Hospitalization numbers -- Texans sick enough to be admitted to hospitals -- set a new record every day. As of 4:00 p.m. Friday, January 8, Texas Hospitals contain 13,921 lab-confirmed COVID-19 patients.