School News
Saritha Bangara awarded research grant
Jan 19, 2021
Sherman, Texas -- Dr. Saritha Bangara, co-director of Austin College's Public Health Program, has been awarded a grant in excess of $90,000 from The Discovery Foundation of Dallas, Texas, in support of her project "Women's health education for victims of intimate partner violence at the Grayson Crisis Center." The grant covers a three-year period of research, evaluation, and education.
The project provides health education for vulnerable female populations in Grayson County as home of Austin College. Studies have shown that women who report a history of domestic abuse are at greater risk for a variety of illnesses, such as heart disease and cervical cancer. Bangara and her team of three Austin College student public health researchers, working in partnership with Grayson Crisis Center, will conduct focus groups with Crisis Center clients to determine the health issues the women need more information on. Bangara and her team will then develop interactive health education modules, including preventable risk factors and ways to mitigate them.
"The privilege of working with the women of Grayson Crisis Center brings me back full circle to what inspired me to pursue a career in epidemiology," Bangara said. "As a graduate student, I became immersed in various research projects that aimed to provide assistance to disenfranchised populations. It is personally and professionally gratifying for me to return down this pathway with the hope of helping the women of Grayson Crisis Center through public health education."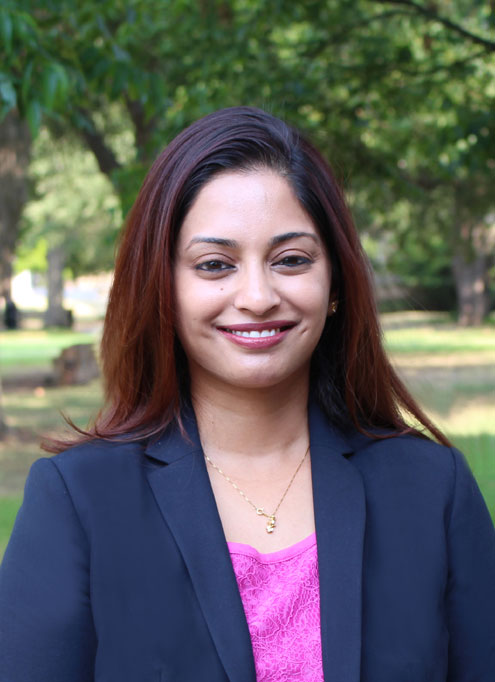 Dr. Saritha Bangara
Bangara, assistant professor of public health, will evaluate the education modules for effectiveness to determine whether they could be appropriately replicated with other organizations serving similar populations. This Grayson Crisis Center project will also serve as a hands-on public health project for student researchers selected to Bangara's team. Though typically not available until graduate school, the research opportunities available to undergraduate students provide valuable experience by applying concepts learned in the classroom to real-world public health education efforts.
The Discovery Foundation has partnered with Austin College in several past and ongoing projects, consistently supporting hands-on student research in a variety of scientific disciplines. Bangara's project expands the reach of research at Austin College into the local community and provide a much-needed service to local women in crisis.
Dr. Bangara completed her master's and doctoral degrees in public health at the University of North Texas Health Science Center with a focus in cancer epidemiology among marginalized and vulnerable populations, which has been the subject matter of her publications and poster presentations at conferences since that time.
About Austin College's Public Health Program
The program is co-directed by Dr. Saritha Bangara and Dr. George Diggs, professor emeritus of biology who delayed full retirement to assist in facilitation of the program launch. The program began with just 12 students but has grown in just five years to 80 majors and minors. Though the Public Health Program is still relatively new, its students have been involved in several research projects and internships including Baylor Scott & White, Texoma Medical Center, United Way of Sherman (and its affiliated organizations), OutReach Paraguay, Texoma Community Center, interaction with the Texas State Legislature during Spring Break, and the Ghana JanTerm. Moreover, two students have completed Honors Thesis projects as well. After serving as the Honors Thesis Committee Chair for one of the Public Health Program's former majors (now a third-year medical student), Bangara and the student were selected to present their poster, "Assessing Sociodemographic Barriers to Cervical Cancer Screening, BRFSS 2016," at the prestigious American Public Health Association (APHA) 2019 Annual Meeting and Expo in Philadelphia. This level of involvement in research has served the Public Health Program's majors and minors well as they have continued on to various Master of Public Health and Ph.D. degree programs as well as medical schools. Of the program's Public Health graduates, Bangara reports 88% are in a health-related graduate or professional school or have a public health-related job.
Austin College, a private national liberal arts college located north of Dallas in Sherman, Texas, has earned a reputation for excellence in academic preparation, international study, pre-professional foundations, leadership development, committed faculty, and hands-on, adventurous learning opportunities. One of 40 schools profiled in Loren Pope's influential book Colleges That Change Lives, Austin College boasts a welcoming community that embraces diversity and individuality, with more than 50 percent of students identifying as persons of color. The residential student body of approximately 1,300 students and more than 100 expert faculty members allow a 13:1 student-faculty ratio and personalized attention. Related by covenant to the Presbyterian Church (USA), Austin College cultivates an inclusive atmosphere that supports students' faith journeys regardless of religious tradition. The College, founded in 1849, is the oldest institution of higher education in Texas operating under original name and charter.