Front Page
COVID-19 report for January 13
Jan 14, 2021
Texas Department of State Health Services COVID-19 report
Austin, Texas -- According to Texas Department of State Health Services, on Wednesday, January 13, the state set another grim record with 405 newly confirmed fatalities related to COVID-19. Since the onset of the pandemic, the lives of 30,624 Texans have been cut short due to the novel coronavirus.
Statewide there are an estimated 363,022 active cases.
Wednesday's data release gave no indication that Texas is flattening the curve of the surge that began in early October. For example, on October 13, the state reported 5,000 new infections and 64 deaths due to COVID-19; 90 days later on January 13, Texas had approximately 27,000 new infections and just over 400 fatalities.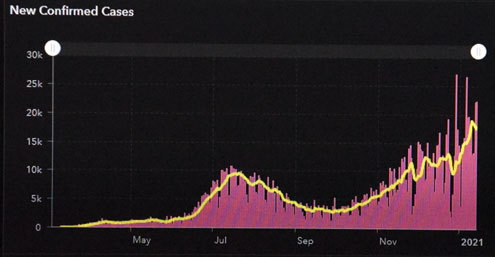 Texas hospitals currently have 14,106 lab-confirmed COVID-19 patients. The hospitalization rate in Trauma Service Area "E" -- which includes Collin, Cooke, Dallas, Denton, Ellis, Erath, Fannin, Grayson, Hood, Hunt Johnson, Kaufman, Navarro, Palo Pinto, Parker, Rockwall, Somervell, Tarrant and Wise counties -- is 25.04%.