Entertainment
What a swell party it was
Jul 13, 2021
It began while doing research on the Western photographer from Bonham, Erwin E. Smith. Smith's collection of images of Texas cowboys at the turn of the 19th Century are held now by the Amon Carter Museum in Fort Worth and can be viewed on the internet at a special gallery of his work. There, along with the photographs of cowboys at work, are other pictures of Smith's days in Bonham.
One section caught my eye. It was devoted to pictures of the Will H. Evans' Party of 1923, and it came with this description.
"In 1923, Will H. Evans, a Bonham businessman, inspirational speaker, and philanthropist, gave the residents of Fannin County a three-day party as a thank-you for their good citizenship. Attended by 42,000 people, the celebration began with a parade and pageant representing the history and growth of the county since 1836. Erwin Smith documented the entire event, as did reporters and broadcasters from throughout Texas. News stories proclaimed it 'the biggest and most unique entertainment given by one man in the history of the nation.'"
I grew up in Bonham, but I had never heard of Will Evans or his wonderful party. I am not alone in that respect. There is nothing much left, not even memories. Ninety-eight years have passed since the event, and very few people, if indeed any at all, who might remember it, are still alive. If you have the patience and good eyesight to stare at the fuzzy images on the screen of the microfilm reader at the Bonham Public Library, you can read about it, but it is not an easy task. Then there are the photographs taken by Erwin E. Smith; those photographs started this effort to learn more about the Will H. Evans' Party.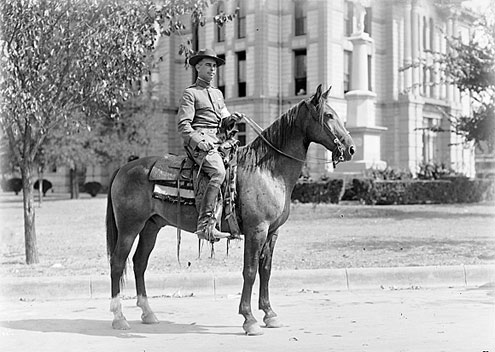 Joe Thurmond, mayor of Bonham, at Will Evans' party for Fannin County, July 10-12, 1923 Image Courtesy of Amon Carter Museum of American Art © Erwin E. Smith Foundation
What then, was it? Tom Scott, when he was the curator of the Fannin County Historical Museum had had done some digging into the party in 1994 and had written a couple of articles for a local publication, so using that as a starting point, I followed his lead. Here is the story.
***
Will Evans was born near Duplex in the northwest part of Fannin County in November 1871. The homeplace sat on land granted to his great-grandfather, Dr. Daniel Rowlett, by the Republic of Texas in 1836. Rowlett had led the first contingent of settlers to establish themselves in the area right around the time of the Texas War of Independence.
Early on, Evans decided that he was not cut out to trudge behind a plow; he left home as soon as he could and moved to Bonham where he got a job at J.W. Peeler's drug store. He extended his education at Fannin College, and struck out on his on hook in 1893 when he opened a real estate and insurance business in an office above the First National Bank. He read the law under the tutelage of Judge W.A. Bramlette and joined the bar in 1896. The newly minted lawyer married Beulah Newman of Bonham that same year.
Over the next quarter of a century, Will Evans played an important role in the life of Bonham and Fannin County. He twice served as city secretary, and was the city attorney for a while. He was president of the Board of Trade, a forerunner to the Chamber of Commerce, for three terms and oversaw Bonham's first sewer system, and the paving of the city's streets.
On his own account, he was a very successful real estate promoter, entrepreneur, and all-round civic booster of some regional renown. And this was the age of the booster and boosterism in both the good and not so good connotations that inspired Sinclair Lewis to write of George F. Babbitt. Understanding the tenor of the times and the almost manic expressions of positive civic pride and support that many felt, the idea of the Will Evans' Party starts to make sense.
Something big is coming
Evans had promoted civic and cultural events in Bonham before, but this time the effort was to be something special. The Daily Favorite of June 4, 1923 touched on what was coming. "Will H. Evans of Bonham, Texas is going to give a party. Many men have had parties, but so far as we have ever heard, no man has ever had a party like the one Mr. Evans is going to have."
In the balance of the story, Evans explained what to expect. "My party is to last three days and three nights. I want every man, woman and child in the entire county, I mean the entire 60,000, to come and enjoy the entertainment I shall provide for their pleasure."
It was not to be the usual Texas celebration. There was no barbecue, no picnic, and no refreshments of any kind. It was about culture and uplift and inspiration. It would start on July 10. "I have postponed my party until the above date in order to permit the farmers to get their crops laid by for the schools to close, for the protracted meetings to close," said Evans. "I want a clear track."
The programs that made up the party very much resembled those of the Chautauqua movement that had held forth in rural American for half a century. "I intend to set aside certain programs to certain groups of people so that everyone can get a seat," Evans said. "For instance, one program will be open to all the boys and girls of the county down to the tots. Another will be open to all mothers and women over the age of 18 and the entertainment will fit these people."
At the end of the story, Evans explained why he was giving the party. "I want to give this party so I can say THANK YOU to all of the people for their kindness to me, and for their many words of encouragement. This party is not given for any community or any special crowd, but for ALL, and I want EVERYBODY to enjoy it."
The Party begins
On Tuesday, July 10, as it would do each of the three days of the event, the Bonham Municipal Band got things started at 8:30 a.m. with a concert on the courthouse lawn. City Attorney Major Fred Rogers welcomed the crowds, and at 10, the biggest parade in the Bonham's history stepped off from City Park (Simpson Park?) on North Main.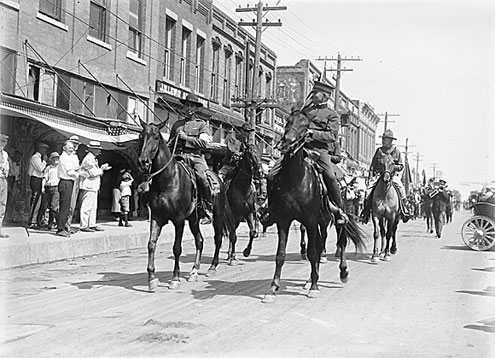 Joe Thurmond, mayor of Bonham, leading soldiers wearing World War I uniforms in Bonham parade. Will Evans' party for Fannin County, July 10-12, 1923 Image Courtesy of Amon Carter Museum of American Art © Erwin E. Smith Foundation
The Dallas Morning News had reporters and their radio truck on hand to join the Fort Worth Star Telegram, and Pathé Newsreel cameras in covering the event for Texas and the world. Within a week, theater patrons all over the county would see footage of the parade in Bonham.
The Daily Favorite reported that more than ten thousand spectators, standing six to ten deep were packed into the parade route which ran south down Main, around the square and then north up Center Street and back to the park. What they saw was a procession of decorated automobiles, floats, equestrian units, military marchers, bands, wagons, bicycles and the fire department's bright red American LaFrance pumper.
1918 American La France pumper truck in Bonham parade, Will Evans' party for Fannin County, July 10-12, 1923 Image Courtesy of Amon Carter Museum of American Art © Erwin E. Smith Foundation
The nurses from Allen Memorial Hospital, in their crisply starched white uniforms, rode on a float and the towns of Trenton, Ravenna, Lamasco, Honey Grove, Leonard, Ladonia, Windom, Dodd City, and Hudsonville had entries. The Boy Scouts had a float, as did the Girl Scouts, the Campfire Girls and the Jazzerinktum Band.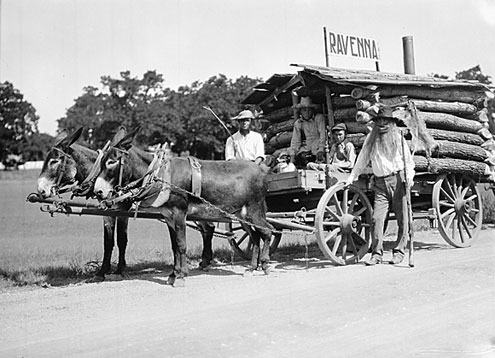 RAVENNA 1836 [Log cabin on wagon, Bonham parade, Will Evans' party for Fannin County, July 10-12, 1923] Image Courtesy of Amon Carter Museum of American Art © Erwin E. Smith Foundation
Many of the marchers wore elaborate costumes, with Buffalo Bill and Robert E. Lee, among others, represented. The rear guard included the Honey Grove band, a host of seventh graders from all over Fannin County, and a stagecoach. And all of this was just the beginning.
Culture and enlightenment
Evans had engaged Bonham's top movie house, the American Theater, built in 1921 by the Rowlett and Rowley chain, for the three days. There was also a performing stage set up on the south side of the square. Several baseball games on the schedule took place at the ball ground on North Main, just past Pig Branch Creek.
There were several programs during the day and each evening at the American, and while the specifics varied, the general lineup stayed much the same. Here is a sampling:
—
Program No. 7, Wed. 9 a.m., the American Theater.
The Jazzerinktum Orchestra
Two selections by a vocal sextet of Misses Penelope Foster, Sue Alice Rogers, Byrl Ford, Elizabeth Rogers, Senter Ford and Grace Agnew
Welcoming remarks by Hon. Frank Spencer, Superintendent of Schools
Reading by Mrs. Gloria Brookmole
Vocal Solo by Mr. Ben Halsel
Piano Specials by Master Edwin Donaldson of Honey Grove
Vocal Solo by Miss Nina White
Address "The Importance of Knowing Things" by the Hon. James H. ("Buttermilk") Lowery, publisher of the Honey Grove paper
Specialty by Stevenson Carlson
Motion Picture: "Humoresque" Staring Gaston Glass and Vera Gordon

—
At 10 a.m. there was a pushball game at the park.
—
Program No. 8, Wed. 12:30, the American Theater

Organ Solo
Piano Solo by Miss Margaret Tobin
Vocal Solo by Miss Mary Kincade
Reading by Miss Ruth Katerina Davis of Ravenna
Saxaphone Solo by Mr. Olvin Gross
Speciality: "Uncle Josh" by Mr. Charles R. Jones of Bailey
Declamation: "Why Does the Nation Pay for the Schools?" by Miss Mary McGrady of High Prairie
Vocal Solo by Miss Ella Margaret Howard
Specialty by Stevenson Carlson
Motion Picture: "The Town that Forgot God" starring Warren William and Jane Thomas
—
And so it went. There were similar programs at the American at 4 pm and 7, and on the square at 8. There were four area congressmen in attendance, Bonham's Sam Rayburn, Eugene Black from Clarksville, Hatton Summers from Dallas and Fritz Latham from Fort Worth. Over the three days, there also were speeches by B.A. McKinney, Governor of the Federal Reserve Bank in Dallas, and noted clergymen Dr. A.C. Parker and L.N.D. Wells from Dallas.
The Bonham Fire Chief, A.J. Stevenson and Mr. Carson did vaudeville routines made famous by Gallagher and Sheen, and there were other comedy routines, but by all accounts the highlight of the performances was the burlesque wedding performed on the final evening. There was more music, with the Texas Harmony Five, the Silver Cornet Band and the Spizzerinktum Orchestra playing away.
The events even drew a few notables. Mme. Rollinoff Bollinsky with her famous Russian wolfhound was there (No, I have never figured out who Mme. Bollinsky was or why she had a Russian wolfhound.), and Dr. Gallina, a famous surgeon, offered a free operation—for what is not stated—to some needy member of the audience.
Overall, it was a heady three days in Bonham. In a large advertisement in the Daily Favorite, the Bonham Home Furniture and Undertaking Company announced that they were opening their doors to partygoers and offered rocking chairs and free ice water for the weary.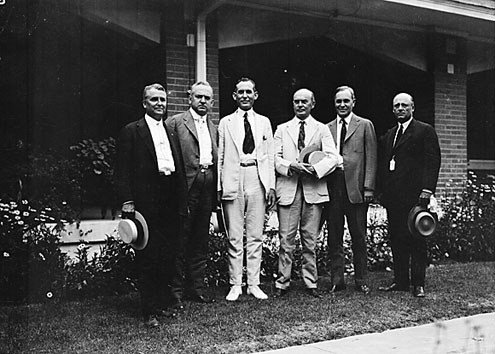 Host and dignitaries at Will Evans' party for Fannin County, July 10-12, 1923 Image Courtesy of Amon Carter Museum of American Art © Erwin E. Smith Foundation
The finale at the American on Thursday evening was the 17th program of the Party. It closed with an original poem by Mrs. D.M. Lilly entitled "Where Bonham Begins." As poems go, it wasn't very good, but who cared, clearly it caught the spirit of things with couplets such as:
"Go round the earth from girth to girth
This is where the rainbow ends.
We're friend without foe,
And the nearest way to Heaven I know
This is where Bonham begins."
Next came a water battle on the square with teams of firemen trying to move a big ball with water from their hoses, and when that concluded the BFD pumper shot water in a tall stream that reached almost as high as the courthouse before falling back to earth.
Program No. 18 on the square closed things out on Thursday evening at 8.
—
Cornet Quartet
Vocal Solo by Mr. Ben Halsel
Piano Solo by Miss Ann Douglas Evans
Address by Hon. Fritz Lagham of Fort Worth
Musical Quartet with Olvin Gross, D.J. Evans, Lynwood Massey and John Allen Stephenson
Address: "What the County Owes the Flag, and What the Flag Means to the Country" by Hon. Sam Rayburn
Musical presentation
Address: "The Reason Why?" by Will H. Evans
Patriotic Tableau by the young ladies of Bonham
All join in singing "America"
—
And it was over. Something Bonham would never forget, but of course it did. Perhaps the people of Fannin County should have listened closer to the final lines of Mrs. Lilly's poem.
"We face the world with truth unfurled,
The welcome is broader some way,
The women are prettier, the men are wittier
And the lads and lassies are gay.
Where Will H. Evans name
Is coupled with fame
Greetings to each he extends.
You had a welcome hearty to his three day party
That's where Bonham begins."
Parade photos by Erwin E. Smith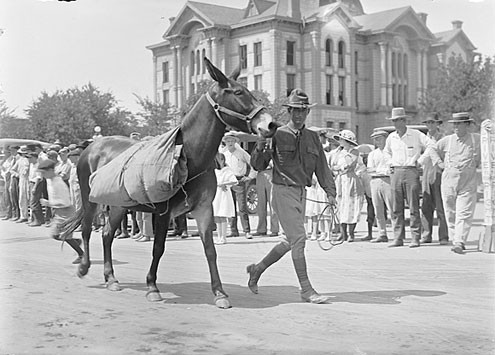 Will Evans' party for Fannin County, July 10-12, 1923 Image Courtesy of Amon Carter Museum of American Art © Erwin E. Smith Foundation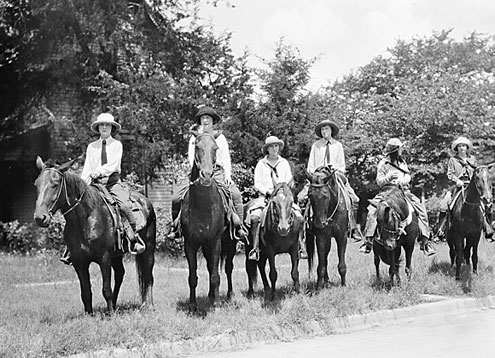 Six women on horseback, Will Evans' party for Fannin County, July 10-12, 1923 Image Courtesy of Amon Carter Museum of American Art © Erwin E. Smith Foundation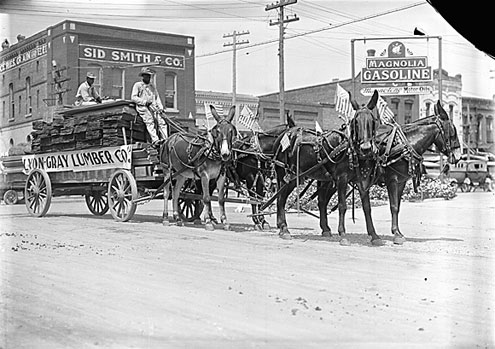 Mule-drawn Lyon-Gray Lumber Company wagon in Bonham parade, Will Evans' party for Fannin County, July 10-12, 1923 Image Courtesy of Amon Carter Museum of American Art © Erwin E. Smith Foundation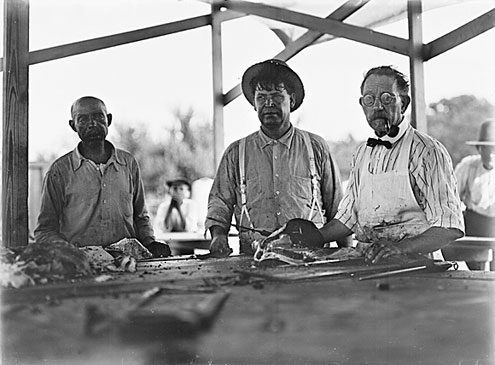 Men cutting barbeque, probably during Will Evans' party for Fannin County, July 10-12, 1923 Image Courtesy of Amon Carter Museum of American Art © Erwin E. Smith Foundation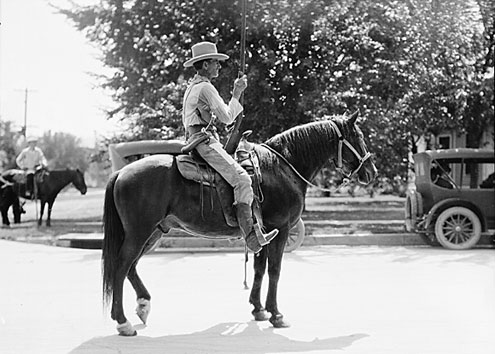 "Colonel" Jake Myers on his horse Buckshot, Bonham parade, Will Evans' party for Fannin County, July 10-12, 1923 Image Courtesy of Amon Carter Museum of American Art © Erwin E. Smith Foundation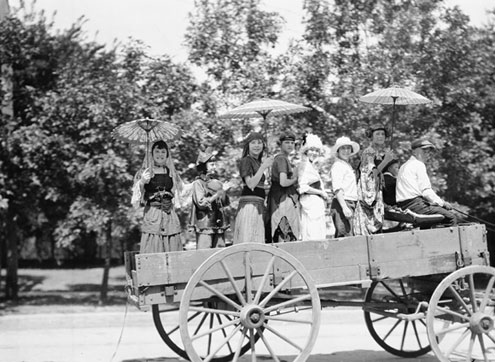 Girls in costume on wagon float, Bonham parade, Will Evans' party for Fannin County, July 10-12, 1923 Image Courtesy of Amon Carter Museum of American Art © Erwin E. Smith Foundation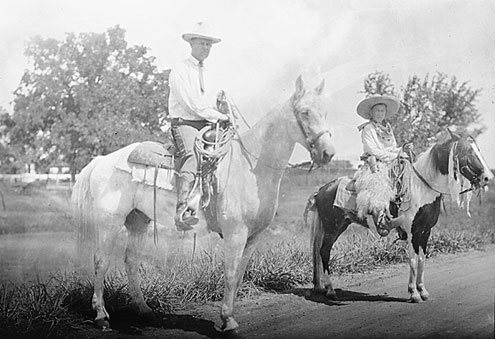 Frank Doss and Steve Robinson, Bonham parade, Will Evans' party for Fannin County, July 10-12, 1923 Image Courtesy of Amon Carter Museum of American Art © Erwin E. Smith Foundation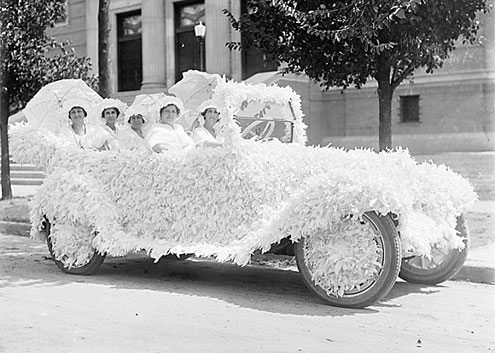 Rotary Club float in parade, Will Evans' party for Fannin County, July 10-12, 1923 Image Courtesy of Amon Carter Museum of American Art © Erwin E. Smith Foundation
HEN, SOW, COW - BOYS CLUB Float in Bonham parade, Will Evans' party for Fannin County, July 10-12, 1923 Image Courtesy of Amon Carter Museum of American Art © Erwin E. Smith Foundation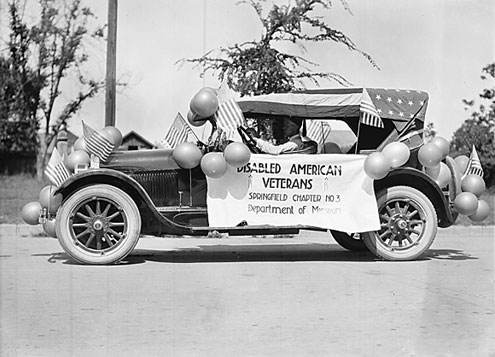 Disabled American Veterans, Springfield, Missouri, chapter no. 3 car float in Bonham Parade, Will Evans' party for Fannin County, July 10-12, 1923 Image Courtesy of Amon Carter Museum of American Art © Erwin E. Smith Foundation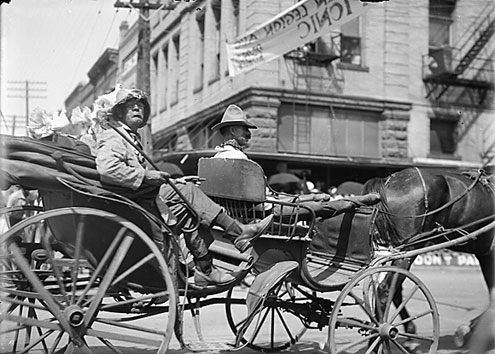 Buggy ride with fowl in town Image Courtesy of Amon Carter Museum of American Art © Erwin E. Smith Foundation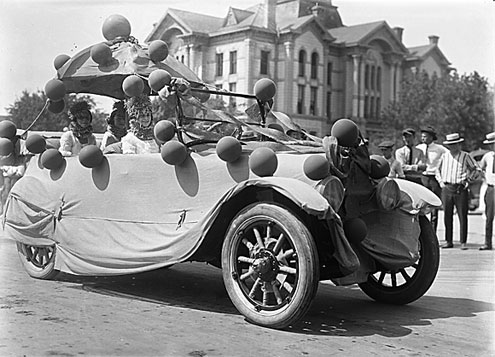 Will Evan's party for Fannin County, July 10-12, 1923 Image Courtesy of Amon Carter Museum of American Art © Erwin E. Smith Foundation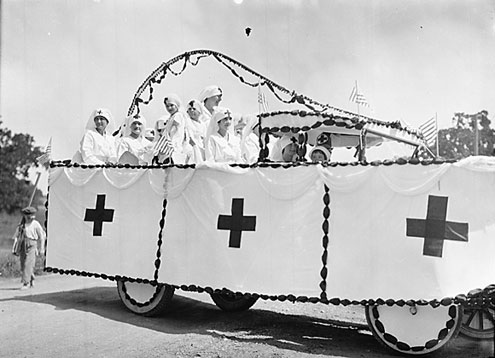 Red Cross float with nurses in Bonham parade, Will Evans' party for Fannin County, July 10-12, 1923 Image Courtesy of Amon Carter Museum of American Art © Erwin E. Smith Foundation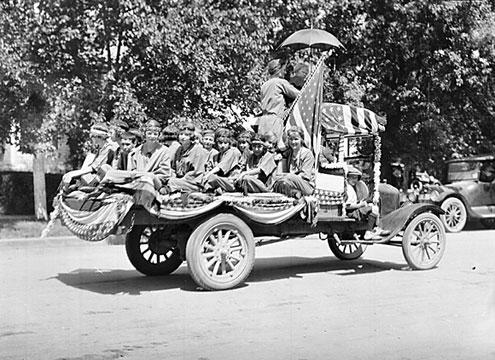 Children in Indian dress on flatbed truck float in Bonham parade, Will Evans' party for Fannin County, July 10-12, 1923 Image Courtesy of Amon Carter Museum of American Art © Erwin E. Smith Foundation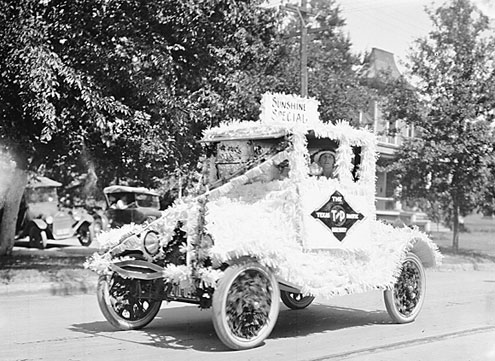 SUNSHINE SPECIAL - T & P RAILWAY [Float Bonham parade, Will Evans' party for Fannin County, July 10-12, 1923 Image Courtesy of Amon Carter Museum of American Art © Erwin E. Smith Foundation