Local News
McKinney partnership brings family health center to most vulnerable
Mar 24, 2021
The facility will also serve as a training center
for healthcare professionals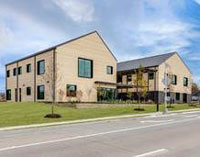 McKinney, Texas (March 22, 2021) – The City of McKinney, McKinney Economic Development Corporation (MEDC) and McKinney Community Development Corporation (MCDC) in partnership with the North Texas Family Health Foundation announced the completion of the Family Health Center on Virginia. The new 25,000-square-foot facility supports expanded primary medical, dental, and behavioral healthcare serving the local community.

"As population surges, so does the need for qualified primary health providers and accessible healthcare. The Family Health Center on Virginia will act as a catalyst of opportunities for job training and health education, primary healthcare and wellness our city needs," said McKinney Mayor George Fuller. "Every resident of McKinney matters, and this facility is strategically located in a medically underserved area to help us serve the most vulnerable more effectively."

The state-of-the-art facility will provide training to primary care physicians and other healthcare professionals, alleviate the critical shortage of primary healthcare providers, and improve access to lab services.

"The mission of McKinney Community Development Corporation is to work collaboratively with community partners to enhance the quality of life for all McKinney residents. We were proud to support the Family Health Center on Virginia with an investment for infrastructure improvements for the project that helped create a state-of-the-art facility," said Cindy Schneible, President, McKinney Community Development Corporation. "The center will provide access to healthcare services for the medically underserved in our community in a beautiful and safe environment. We are excited to see the completion of this project and delivery of quality care to families, children and individuals in our community."

"What sets McKinney apart from other cities is our strong sense of community. COVID-19 has taught us that anyone's economic condition can change at any time. This facility will make sure all our residents always have access to decent healthcare and the MEDC will continue to reinvest in our community," said Peter Tokar, President, McKinney Economic Development Corporation. "I am proud to see McKinney come together to create this humanitarian project and may it be the first of many."

The Family Health Center on Virginia, a Community Healthcare Center service, has been awarded designation as a Federally Qualified Health Center. This designation is a measure of excellence in primary care infrastructure.

"I am thrilled to see how our community over my time serving McKinney has become stronger and more united. Despite these challenging times, residents are always willing to help our less fortunate. This facility is a testament to the generosity of the community and the kind nature of our city," said MEDC Chairman Brian Loughmiller.

The facility was made possible in part by a job-based Chapter 380 agreement from the City of McKinney and grants from MCDC and MEDC for site infrastructure, job training and to cover development fees.

Subject to federal and state requirements and approvals, Family Health Center on Virginia is slated to start serving its medical and behavioral health patients from the new facility in the spring of 2021.

Individuals and families can find out more about scheduling appointments at the clinic's website: www.fhcntx.org or by calling 214-618-5600.