Local News
78 Live at Powder Creek Pavilion March 27 - Classic Rock at its best!
Mar 27, 2021
78 Live - Classic Rock at its best!
Bonham, Texas -- Saturday, March 27 at 8:00 p.m., Powder Creek Pavilion welcomes 78 Live to the sound stage. Powder Creek Pavilion is located at 520 S. Center St. Bonham TX 75418 (903) 227-1911.
Enjoy a cool spring evening and come and listen to the hottest band around...78 Live! Formed in 2019, they have been on fire ever since. Talented and professional musicians, this band has it all.
Their show is energized, & punchy.
This band loves what they do and it shows. Bryan Kersey-lead vocalist has a soaring vocal range with enough growl to nail down any rock ballad.
They have been in the studio recording Original songs "Tally Marks," Quarantine Blues," "Whiskey Rebels '94" and "Bus Drivers Destiny" to name a few. Plus generations of great dance cover tunes. Bands like the Beatles, Bonjovi, the Black Crows and the Bad Wolves.
They are a musical family. Be sure to catch them at the Powder Creek Pavillion in Bonham ‪March 27‬.
You wanna Rock? Dance? They got your number!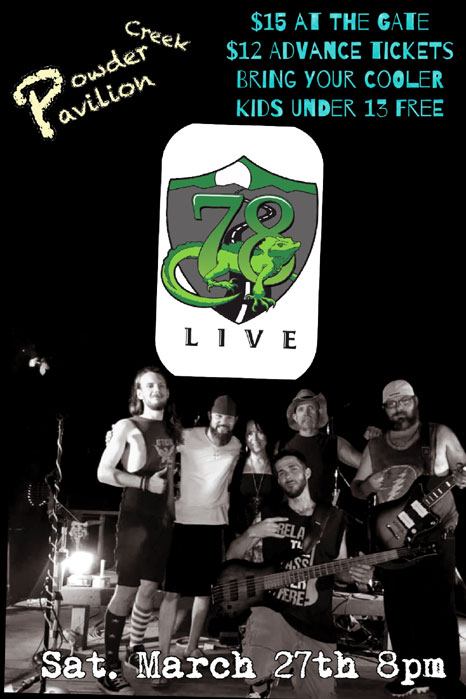 Lead Vocalist- Bryan Kersey
Lead Guitarist/Vocals- Clint Morris
Rhythm Guitar/Vocals- Keeton Allen
Bassist/ Vocals -D.J. Jeremy Simpson
Drums - Dave Iwata
Keyboards/Vocals -Laura Iwata
Featuring Flutist - Emily Amigh