Local News
Alicia Whipple, Fannin County Auditor receives Oath of Office
Mar 25, 2021
Fannin County, Texas -- Fannin County Auditor Alicia Whipple recently completed her first two-year appointment in her role as county auditor. Recently, Auditor Whipple was reappointed by 336th District Court Judge Lauri Blake.
"Ms. Whipple has been done an admirable job as County Auditor. She has moved the financial core of the county from paper to paperless by implementing technology. This transition was much needed and has greatly enhanced efficiencies in the budget, auditing, payroll and purchasing processes for Fannin County. Alicia monitors the expenditures made for the courthouse restoration in addition to the $15 million budget used to operate county business," stated Judge Blake.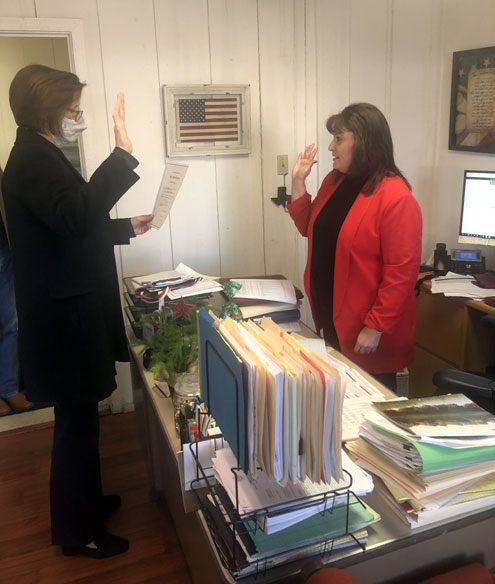 (L-R) 336th District Court Judge Lauri Blake and Fannin County Auditor Alicia Whipple
Activities in which Alicia Whipple is involved outside of her job include serving as a CASA (Court Appointed Special Advocate) through the Children's Center, a member of Bonham Kiwanis, and President of the Lake Fannin Volunteers. Recently she has begun quilting, which she squeezes in around the time she spends with grandchildren and attending their events.
"We are fortunate to have a person of her talent, energy, commitment and integrity working as Auditor for Fannin County," said Judge Blake.