Local News
Bailiff Wayne Shouse recognized for years of service
Mar 26, 2021
Bonham, Texas -- Anyone who has attended court in the 336th District Court, whether as a juror, litigant, spectator, witness, or attorney is familiar with the Bailiff, Wayne Shouse. Recently, Mr. Shouse was recognized for his 10 years of service to Fannin County. It is customary in Fannin County for that recognition to occur at an event for county employees. However, in 2020, that event was canceled due to the pandemic.
County Judge Randy Moore did not let the occasion pass without taking the time to craft a heartfelt certificate recognizing Wayne's years of service. Judge Blake presented the certificate and a gift to Mr. Shouse in an impromptu recognition ceremony prior to beginning a morning docket. Wayne was at a loss for words, which is unusual!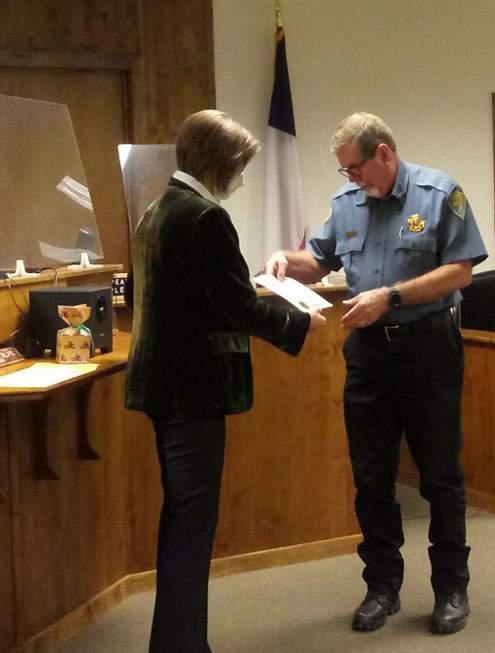 336th District Judge Lauri Blake presents a plaque to bailiff Wayne Shouse after he was recognized for his 10 years of service to Fannin County.
Mr. Shouse is dedicated to excellent service. He demonstrates this on a daily basis by arriving to work early and making the building and court ready for court hearings. Wayne's good communication skills and proactive approach to getting things done are an important factor in the success of keeping the wheels of justice moving in Fannin County.
Prior to becoming the bailiff for the 336th District Court, Wayne Shouse served as a police officer for the City of Irving Police Department for 30 years. He has been married to his wife, Sharon for 42 years, and they have 2 adult children, and several grandchildren. If you see Mr. Shouse, congratulate and thank him for his years of service!