Lifestyles
Creative Arts Center welcomes local author, Alyne Bailey April 10
Apr 10, 2021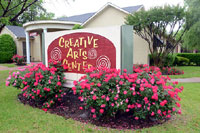 Bonham, Texas -- Creative Arts Center welcomes local author, Alyne Bailey, for her latest book launch, Red Baseball Hat in a Forest Fire. This is the third book in her Red Hat series, contemporary romance novels for mature women. Alyne Bailey will be launching her new book at Creative Arts Center, Saturday, April 10, 2021 from 12:00 p.m.-3:00 p.m. Come by and meet the author and get your copy signed by Alyne. Her series is available for sale in our gift shop. Complimentary beverages and hors d'oeuvres will be served.

Alyne majored in biology, minored in chemistry and math at a small college in Minnesota in the '60s. "I was the only female science major in the Science Hall," recalls Alyne. "One of my long-range goals is to write the Great American Novel," says Bailey.

Now that she is retired, her Great American Novel is a work in progress. She has aspirations of becoming a standup comedian; it has been her second long-range goal. Alyne Bailey lives in Honey Grove, Texas with her husband.

Creative Arts Center is Located at 200 W. 5th St, Bonham, TX 75418 - call 903-640-2196 for more information.