Local News
Judge Moore administers Oath of Office to Michelle Case
Mar 30, 2021
Fannin County, Texas -- The Fannin County Purchasing Agent serves a two-year term in office and at the conclusion of that term, the Purchasing Board, which presently consists of Judge Lauri Blake as the Chairman and County Judge Randy Moore, must decide who will serve the next two years. Michelle Case recently completed her first term in office and has been appointed to serve another two-year term. During the January 2021 Board meeting, Judge Randy Moore administered the Oath of Office to Michelle Case.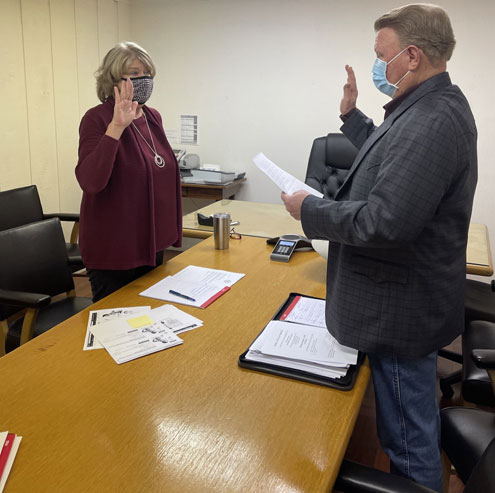 Ms. Case announced goals for her next term in office which include updating the purchasing manual and training all county employees on using the new, electronic method of purchase order system. Michelle works closely with the Auditorís office, the Commissioners Court, the IT department and County Treasurer, David Woodson. Ms. Case has been heavily involved in the court house restoration project as well as the upcoming process for investigating the possibility of building a Fannin County Justice Center.
ďIím looking forward to serving Fannin County as Purchasing Agent another term. I plan to continue to implement best practices into the purchasing processes for the county with an eye toward saving money and getting the best value for taxpayers,Ē said Ms. Case.