Local News
Irving invests in revitalization of iconic Williams Square Plaza and Mustangs of Las Colinas
Apr 3, 2021
The renovations provide a fresh attraction and a reenergized space for the hallmark symbols of Irving
Irving, Texas -- Setting a new standard for highly amenitized urban office spaces, Williams Square Plaza, home to the iconic Mustangs of Las Colinas, will soon have a new, fresh look thanks to the City of Irving's $7.8 million investment. By removing a portion of the existing granite pavement to promote a sleek, urban greenspace, the new Plaza will connect Williams Square to extensive dining, entertainment and outdoor recreation options. Neighboring Lake Carolyn, the popular Water Street development and the Toyota Music Factory entertainment district, Williams Square Plaza's enhanced features will build upon the Las Colinas area's reputation as a global corporate office destination and provide Irving's urban center with a stunning outdoor space.
"Williams Square is a true destination in Irving and an important part of our history with Carpenter Ranch," said Irving Mayor Rick Stopfer. "The City Council has been working with our partners at DCURD, Williams Square ownership and the Las Colinas Association since 2017 on this project, and I am ecstatic to finally have a beautiful vision to reenergize our iconic mustang sculpture and surrounding plaza space."
As COVID-19 forced the world to rethink the way we work and live, the modern amenities and flexible workspaces offered by Williams Square allow building customers to utilize indoor and outdoor environments to work safely. Renovations to Williams Square Plaza include repairs to the iconic mustang statues, improved lighting features and fountain upgrades. The Plaza redesign will include greenspaces with trees and landscape improvements, movable tables and chairs and a multipurpose patio. The enhanced design will offer a vibrant, pedestrian-friendly open-air space with opportunities for events and public gatherings. The nine mustang statues galloping across the existing granite stream will remain the focal point of the bustling Las Colinas urban center.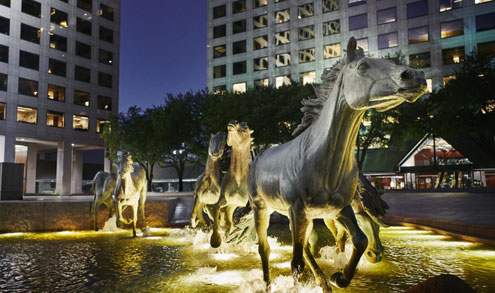 "We want to give a special thank you to the City of Irving, Mayor and City Council for their support and contributions in making Williams Square Plaza a fresh, new home for the mustangs that will promote community and a sense of wellbeing within the heart of Las Colinas," said Bill Brokaw, senior vice president of Hillwood Urban. "Irving understands the importance a comfortable and fresh air environment has on an office setting and providing this key greenspace and connection to nature for the community is also critical in attracting and retaining office users to Irving, the premier destination for corporate relocations and headquarters."
On Feb. 25, 2021, the Irving City Council awarded a $7,788,703.37 contract to Structure Tone Southwest for renovation and updates to the Williams Square Plaza, located at 5217 N. O'Connor Blvd. Construction is anticipated to take 9 to 12 months and the revamped Plaza is slated for completion around the first quarter of 2022.
A well-recognized and beloved symbol of Irving, the Mustangs of Las Colinas are one of the world's largest bronze equine sculpture displays. Created by noted African wildlife artist, Robert Glen, the magnificent art piece was installed in 1984 as the centerpiece of Williams Square Plaza. Adjacent to the sculpture, in the East Tower of Williams Square, is the Mustangs of Las Colinas Museum where visitors learn the story of the eight years of work Glen invested in the creation of the Mustangs. The Museum also serves as a visitor center for the City of Irving, providing information about other museums and cultural sites to visit. The Museum is currently closed for renovations and will reopen the first quarter of 2022. Visit IrvingArchivesandMuseum.com for more details.
Designed by preeminent developer Ben Carpenter in 1985, Williams Square's emblematic pink granite towers have long defined the Las Colinas skyline. Today, Williams Square is owned and operated through a partnership between Hillwood Urban, Apollo Global, a leading global alternative investment manager, and Vanderbilt Partners, a vertically integrated real estate investment manager focused on office investment opportunities.
The City of Irving ranks #1 per capita among cities with at least 5 Fortune 500 corporate headquarters with a population greater than 100,000. Centrally located in the Dallas-Fort Worth Metroplex, Irving continues to attract top talent from around the world.