Local News
Split Window Studios making good vibes in Downtown Denison Entertainment District
Apr 1, 2021
Denison, Texas -- Split Window Studios announces their move to a new location and substantial studio investment at 400 West Main Street in historic Downtown Denison coming April 2021.
Split Window Studios, a full-service audio, video and media production company, selected this 3,000 square-foot recording studio as their new location and is planning several equipment and facility upgrades. Denison Development Alliance (DDA) partnered with the business that will expand Denison's exposure to the music and video industry.
"Split Window Studios is the perfect fit for 400 W. Main and our vision for Downtown Denison," said Mayor Janet Gott "Their choice of Denison and their willingness to make a long-term investment is reflective of the City's commitment and investment in our Historic Downtown revitalization programs. We are so pleased they chose to be part of our very exciting future!"
Split Window Studios was founded in 2007 by owner Tony Giarraputo and Producer/Engineer Chris Romain. Robert Kauffman, Kevin Owens and Jean Cruz round out the media production team. Giarraputo was impressed by the studio space that was originally designed in the eighties by Russ Berger, well-known for acoustical and architectural design of recording studios and broadcast facilities.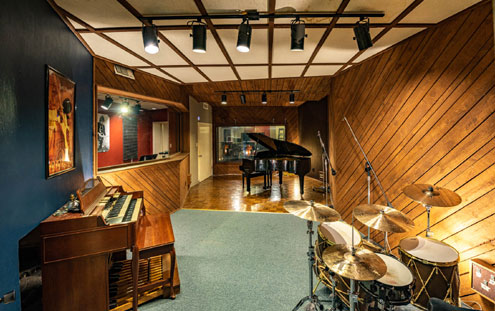 Split Window will be installing high end mixing and recording equipment, Giarraputo explained, "including the legendary Solid State Logic 4000g+ mixing console model that has reportedly mixed more platinum-selling albums than all other consoles combined."
The studio features four separate tracking rooms. Giarraputo said that other improvements will include adding numerous pieces of equipment, a podcast studio and a newly designed, 1,000+ square foot video production room with a cyclorama wall, green/blue screen, and LED-wall capable of supporting any video production project.
DDA will be providing a micro-manufacturing incentive reimbursement after the improvements are complete equal to 15%, approximately $30,000, of this $200,000 recording studio investment.
Matt Looney, DDA Chairman said, "Split Window Studios' investment is breathing new life into this unique studio by adding new audio and video recording capabilities to the property. We appreciate Tony and Chris recognizing this opportunity and committing their resources to make it happen. We look forward to seeing, and hearing, their success!"
Giarraputo added, "We are excited to be a part of the Denison Community. Denison has recently been named by the State of Texas as a Music Friendly Community. This is a perfect fit for our brand and culture." He added, "The warm welcome has been incredible, and we feel lucky to be a part of Downtown Denison Entertainment District, the Denison Chamber of Commerce, and the whole family of merchants in Downtown Denison. As well as a business, this is a passion for us at Split Window Studios and it is wonderful to work with a city that shares that passion."
Main Street Director Donna Dow is excited about the potential and capabilities of the new Main Street business.
"This great addition to Downtown Denison will build awareness by offering audio and video production and online event broadcasting, as well as attracting more musicians and fans for live music," Dow remarked. "Looking back, we have been working toward developing this environment for the last 10 years."
Dow, the Denison Main Street Director, went on to say, "The Entertainment District, our Music Friendly designation, and this unique studio drew them to Downtown Denison. I believe other Music Friendly businesses in our district will also be great partners. Tony and Chris have already demonstrated their commitment to Denison and live music by supporting our Music on Main lineup release. We look forward to their success at 400 W. Main Street."